Smooth 6.25 Treadmills Come with Shock-Assist Folding Feature
Smooth 6.25 treadmills are rather unique because they're folding treadmills that are also designed for serious runners. While we love the portability of folding models, we aren't often impressed with the quality of them in terms of performance – the Smooth 6.25 is the exception.
The Machine
For about $1,700 (although you can frequently find them on sale for $1,500), Smooth 6.25 treadmills pack a lot of features. Smooth Fitness has only recently introduced this model to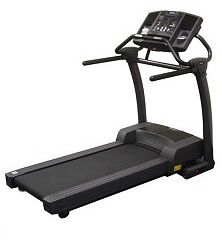 replace the older 7.1, and they've made an outstanding treadmill for the price. The folding mechanism includes gas shocks that make raising and lowering the deck nearly effortless, eliminating back strain. Other features include:
2.75 HP continuous motor
20"x 54" phenolic deck
8 programs
9 user profiles
300 lbs. weight limit
15% maximum incline
LED display console
Target heart rate settings
Lifetime motor & parts, 1 year labor warranty


The treadmill warranty alone makes the Smooth 6.25 a great buy, but they are also sturdy, smooth machines that even serious daily runners will be comfortable with.
The Buzz
UPDATE:  The Smooth 6.25 has been discontinued. Check out their new treadmill model lineup for comparable machines.
On the market only a short time, the Smooth 6.25 folding model is already racking up honors, winning awards from The Treadmill Doctor and others. Professionals all say the motor is powerful enough for full-out runs and the generous deck size means you won't feel cramped.
Those who own the Smooth 6.25 like the phenolic treadmill deck and specially woven belt. These combine to provide one of the most comfortable, quietest workouts on the market. The shock assisted folding mechanism is also popular.
What We Say
Even if they didn't fold, Smooth 6.25 treadmills would be worth the price. Smooth Fitness put so much thought into improvements with this model. Belt life is increased with oversized rollers and generous program choices and incline range all make this a truly special machine.
When you add in the patented, easy-to-use gas shock-assisted folding feature, it's surprising you can get the Smooth 6.25 folding treadmill for under $2,000. You're also protected with the best warranty you can get, so it's an investment without risk.