The Lifespan TR200 Compact Treadmill Fits Under the Bed
The award-winning Lifespan TR200 compact treadmill is ideal for any small apartment, motor home, attic or basement workout room. Even a bedroom! At just 11" high when lying flat, this machine conveniently fits under a bed or stands up to store behind a door.
The Machine
The contemporary blue LCD shows readouts for time, distance, calories, speed, steps, incline level, and heart rate. There are three speed programs and three incline programs.
Features and specs of the Lifespan TR200 compact treadmill: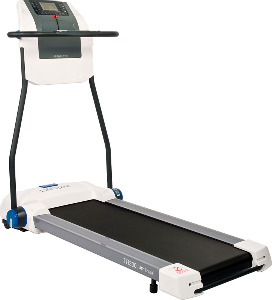 1.5 HP Continuous Duty Motor
17" x 48" Tread Belt
0% - 10% Incline
0.5 - 8 mph
6 Workouts
Contact heart rate sensors
MP3 plug-in + speakers
250 lb. Max User Weight Capacity
Weight / Dimensions: 137 lbs / 52"H x 31"W x 60"L
Warranty: lifetime on frame, 5 years motor, 1 year parts & labor
The Buzz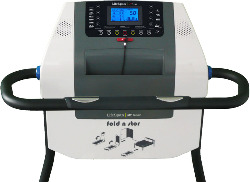 UPDATE: The TR200 model has been discontinued.  Check out the Lifespan TR1200i for a comparable model, a Best Buy winner several years in a row.

The entry level Lifespan Fold n-Stor Treadmill has won a number of awards for "Best New Treadmill" (Treadmill Doctor), "Best in Class for under $1000" (Fitness Professor), and many more "Bests" from leading consumer products reports.
The Lifespan TR200 is one of the better-built compact treadmills. It has a top speed of 8 mph, a 1.5 chp motor that is adequate for the quiet 17" x 48" walking belt, and a 10% incline that equals about a 6% gradient.
The folding design is a key selling point on the Lifespan TR200 compact treadmill. The handlebars fold flat alongside the deck, so that its folded profile measures just 11 inches.
The speakers aren't great but you can plug in your own headphones to the audio jack, or listen to a TV or radio across a room – the TR200 is quiet enough to hear a TV at normal volume across a room. Best of all, this folding treadmill comes fully assembled in the box. It is ready to use the minute you unpack it.

PCE Health and Fitness, which owns Lifespan, introduced this line of fitness equipment in 2001, specifically targeting the over-55, value-conscious consumer. Treadmill reviewers are also recommending the Lifespan TR200 only for light users, casual walkers, and seniors who need something that is easy to handle and store. Marketing literature seems to promote this compact folding model for 30-minute walks, 2 or 3 times a week, only.
One more point about user weight: forget about that "250-lb user capacity." As a rule of thumb, if a treadmill weighs less than you do, you should not expect it to have a long life if you intend to use it for an hour every day. If you weigh more than 180 pounds, this 137-lb machine may not be the best choice for you.
What We Say
This machine is budget priced at $799 and that includes free shipping. If you are looking for a nice walker's treadmill and you don't have room for one to stay set up all the time, the Lifespan TR200 compact treadmill makes sense. Also, take a moment to review the 190-pound Smooth 5.65 treadmill with a 2.5 CHP motor at $899.
It is also a compact folding treadmill and anyone who believes they are too tall or heavy for the Lifespan should consider going with the Smooth.
Show me other Lifespan Treadmills