The Freemotion XTr Treadmill – A Steal When on Sale
When it goes on sale, the Freemotion XTr treadmill is one of the best deals in fitness equipment to have come along in a long time.
The Machine
The console display on the Freemotion XTr treadmill has a graphical backlit display that shows speed, time, incline, distance, pulse, carbs burned, and calories burned.
Programming includes 6 custom Memory Workouts in which you pick the goal, speed, incline, and time length for the ultimate, personalized workout, plus 28 pre-set Performance Workouts designed by a Certified Personal Trainer.
The specs of the Freemotion XTr include: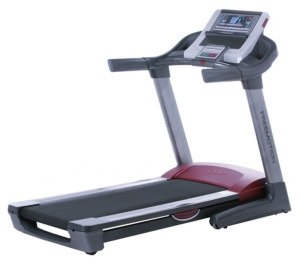 3.0 CHP Motor
0.5-12 mph One Touch Speed™
0% - 12% One Touch Incline™
20" x 60" running area
34 Programs
iFit® Live* Compatible
Music Port for iPod®
Intermix Acoustics™ 3.0 EQ Sound
Dual Grip Heart Rate Monitor
Adjustable Cushioning
350-lb. User Capacity
SpaceSaver® Design
Warranty: Lifetime frame & motor, 1-year parts & labor
* iFit® Live Module sold separately.
UPDATE: The Freemotion XTr has been discontinued and is no longer available for purchase.  Check out the most popular Freemotion models on sale to find a comparable model. 

The Buzz
The Freemotion XTr treadmill is loaded with features on the console to entertain you: Plug your iPod or mp3 player for tunes that play right through the quality Intermix Acoustics™ 3.0 EQ sound system on the console so you can workout to the large variety of programs, or log onto iFit.com to download new treadmill workouts with pro trainer Jillian Michaels.
You can also manage your profile online and keep track of your progress. On deck and under the hood, the well-designed Freemotion XTr comes with a 20" x 60" belt, 12% incline, adjustable cushioning, hefty user capacity, and a big 3.0 CHP motor to power it all.
When you read treadmill reviews about these Icon Fitness machines, you will be surprised at how pleased consumers are with their treadmill. The Freemotion XTr is a very nice machine with above average value — depending on the price you pay.
The warranty isn't great and the heart rate sensors are crap, but everything else makes up for it. If you compare this machine to other treadmills selling for around $1,000, the cushioning, low noise level, choice of components, and overall quality are first rate.
What We Say
We've seen the Freemotion XTr selling for $999, which makes this treadmill a steal, but we've also seen it priced online at its MSRP sticker of $1,999 and not a penny less. Once you see a manufacturer willing to offer a 50% markdown, you wonder how many uninformed suckers will pay full price.
Here's a tip that will help you save you hundreds of dollars, right here, today: The Freemotion XTr treadmill is the same model as the Epic View 550 treadmill (with a TV in the console!), as well as the Reebok T12.80, and a close cousin to the Nordictrack Commercial 1500 treadmill.
Icon Fitness makes them all. Except for a few cosmetic differences and programs added or deleted, they are the same treadmill bumper to bumper.
When you are ready to buy, you only need to find the make and model that sells for $999. (Or perhaps a little more at $1,299 to $1,349, which is still a decent price for any of those models.) Just don't pay the listed $1,999 MSRP! If you buy it at $1300 or less, the Freemotion XTr treadmill is a Good Buy.
Show me other Freemotion Treadmills