Fitnex Treadmills – Quality Components and Workmanship

Fitnex Reviews
While you'll find Fitnex treadmills to be superior designed and engineered treadmills, the prices are much higher than competitor models.
About the Company
Fitnex makes a full line of light commercial and home cardio fitness products including treadmills, exercise bikes, and elliptical trainers. Its parent company, Fitness Master Inc (FMI) has been an original fitness equipment manufacturer for several major brands for 20 years before they began to label their own products in 2003.
Now FMI has a stable of their own brands which are Fitnex, Aristo Commercial, Power Master, Steelflex Strength, and X Series Bikes. Headquartered in Dallas, Texas, the company is run by Eric Dick and Ed Banasky, two industry veterans with 25 years of experience in the design and distribution of fitness equipment for the commercial, specialty, and home markets.
About the Machines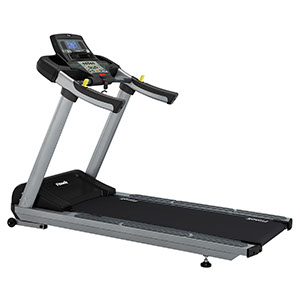 The company focuses on just a few models: the T60, T70 and the XT5 kids treadmill. By producing just a few machines, Fitnex treadmills can offer a simplified factory direct to consumer business model. The treadmills include:
The Fitnex T60 is a high quality commercial treadmill with a 19.5" x 60" running surface, a 350-lb user weight capacity, and a 15-degree incline. This $2,100 machine is engineered for light heavy use in hotels, corporate facilities, and in the home with multiple users.
Compare Popular Fitnex Treadmills on Sale at Amazon
The Fitnex TF55 is the folding model of the Fitnex line-up and its best value. It has a 20" x 54" running area, a big 3.0 chp DC motor, 15-degree incline, and features a number of commercial grade components.
The Fitnex T40 home treadmill has a small 19" x 54" running surface, 2.4 chp motor, pulse grip monitors, and a 10-degree incline.
Quality at a Price
The Fitnex brand offers excellent quality in components and workmanship but it all comes at a cost.
For a factory-direct business plan, these three treadmills cost hundreds of dollars more than other brands and they have fewer frills and features (such as music ports, speakers, fans, and such). Older reviews on these machines still list the parts warranty as "lifetime," but Fitnex has dropped the coverage to 3 years on the T40, and 5 years on the T60 and TF55.
Also, the labor warranty is for one-year only; other mid-priced brands now offer 2-year in-home repair warranties. Fitnex treadmills stand out because they are stylish and well-engineered, but the same thing can be said about a number of other brands that have the same goals yet sell their products for hundreds less.
Click here to write your own review!
Fitnex Treadmill Model Reviews
Fitnex T60 Treadmill - The T60 gets praise for its power, quality, quiet noise level, and cushioning, but only average marks for value. This is a powerful machine with some nice points.

Fitnex TF55 Folding Treadmill - Reviews on the TF55 have been very favorable and we feel it is the best value of the three Fitnex machines. Built with quality components; pairing of the shorter 54" belt with a strong motor is a definite advantage.
Fitnex T40 Treadmill - The Fitnex T40 is a nice machine but it doesn't come close to the value and features found on other mid-priced machines on the market.
Fitnex T50 Treadmill - A heavy machine that looks like it should be able to support more than a 300-lb user weight, but the shorter tread belt could be a turn-off for some potential buyers.
---