The Fitnex T50 Treadmill – Quality Model But We Don't Recommend It
The affordable Fitnex T50 treadmill provides the user with up to 10 miles per hour of speed and 12 degrees of incline.
The Machine
The console has a matrix profile and a three-window LED display that shows speed, time, distance, calories, and more. The pre-programmed workouts include manual, weight loss, 3 endurance, 3 interval, and 3 cardio programs.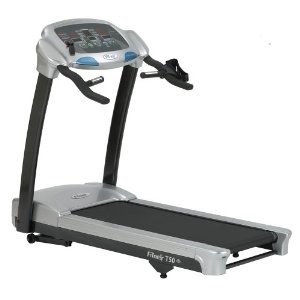 The full specs of the Fitnex T50 are:
2.4 CHP Motor
19" x 54" Tread Belt
0-10 mph Speed
0-12% Incline
17 Workouts
Hand Grip Heart Rate Monitoring
300 lbs User Weight Capacity
Transport wheels, Water bottle holder
Dimensions / Unit Wt: 75.5" L x 31" W / 256 lbs
Warranty: lifetime on frame, 20 years motor, 5 years parts, 1-year labor
Compare the Most Popular Fitnex Treadmills at Amazon
The Buzz
The quality mechanical specs on the Fitnex T50 treadmill include a 2.4 horsepower continuous duty PWM system motor, 2.5" rollers, a Texaglide lubricated 19" x 54" running surface with a 1.7mm 2-ply belt, and a 6-point elastomer cushioned deck.
This is a heavy machine that looks like it should be able to support more than a 300-lb user weight, but the shorter tread belt could be a turn-off for some potential buyers. In comparison, most $1400 treadmills offer a wider and longer 20" x 60" tread belt.
Don't dismiss the T50 simply because you've never heard of Fitnex before. The company, FMI, has been around for a while and their Fitnex-brand treadmills come from the same Taiwan factory that makes Endurance machines.
Nevertheless, since the company does not have much of a market share in the US, it is difficult to say how long the company will try to compete against better-known brands at this price point.
What We Say
Even though reviews are good on the $1,399 Fitnex T50, you should still go with a more popular treadmill from Sole, Smooth, Yowza, Lifespan, or NordicTrack over this one.
While the parent company has been manufacturing equipment for some big names in the business for many years, it is a different ballgame to try to establish and service your own brand.
There are so many good treadmills at this price that it's a shame there's nothing that really stands out on the Fitnex T50 treadmill to recommend it.
Show me other Fitnex Treadmills