The Fitnex T40 Treadmill Doesn't Compare to Other Mid-Priced Models
The stylish design of the Fitnex T40 treadmill is a big selling point of this model, but beauty is only skin deep. It lacks some of the specs and features that other brands offer as standard equipment.
The Machine
The Fitnex T40 has a profile matrix and 3-window LED display console that shows time, speed, calories, distance, pulse rate, elevation, and laps. It offers 21 built-in workout programs including manual, 5 weight loss, 5 running, 5 cardio, and 5 interval.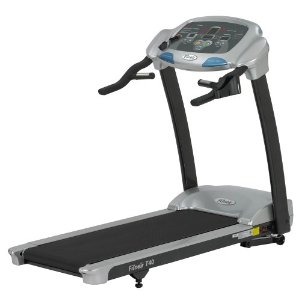 The specs on the Fitnex T40 treadmill include:
2.4 HP continuous duty Motor
19" x 54" Running Area
0-10% Incline
1-10 mph Speed
21 Programs
Grip Pulse monitors
300 lb. Weight Capacity
Unit Wt/Dimensions: 209 lbs / 75.5"L x 31"W
Warranty – 3 years on parts, 1-year for labor
Compare the Most Popular Fitnex Treadmills at Amazon
The Buzz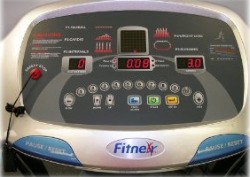 The Fitnex T40 treadmill has a 2.4 horsepower continuous duty PWM motor control system with speeds of 0.5 to 10 mph, and a 500-lb thrust lift motor to provide a power incline up to 10 degrees.
Other specs include a 1.7mm 2-ply belt and a 6-point elastomer cushioned deck. The running area measures 19" x 54" which seems to be small for a treadmill that is over 75" long.
If you read the reviews on Fitnex treadmills you will find users make many positive remarks on these machines.
However, some of the general information on the web has not been updated, so do be aware that Fitnex has recently dropped the lifetime parts warranty (the listing on Amazon is wrong) and now offers 3-year coverage for parts. That actually brings it more in line with what other manufacturers offer.
What We Say
As long as you are going to buy a 200+ pound treadmill and are willing to pay $1,399, why not get one with a 20 x 60 running deck, a fan and an iPod dock and speakers and 1" thick deck and 12% grade incline, and maybe a 5 year parts warranty and 2-years labor? Sound good?
Then go look at a Yowza Smyrna, or half a dozen other best selling $1,399 models and forget the Fitnex T40 treadmill. It's a nice machine but it doesn't come close to the value and features found on other mid-priced machines on the market.
Show me other Fitnex Treadmills