The Endurance T6iHRC Folding Treadmill – Outstanding Warranty
With its small footprint, the Endurance T6iHRC folding treadmill has potential for people with limited space for working out. In addition, owners can plan on using the machine for a long, long time since BodySolid backs all of its equipment with a lifetime guarantee on all parts, electronics, motor — everything.
The Machine
The Endurance T6iHRC folding treadmill has a three-window matrix LED display. Programs include Endurance, Interval, Cardiovascular, Walking, Running, Fat Burn, and Manual. To add more challenge, each of these programs features three user levels at progressive levels of intensity.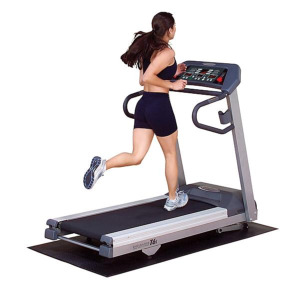 The specs on the Endurance T6iHRC include:
2.5 HP Continuous Duty Motor
0.5-10 mph
0-12% Incline
19" x 53" belt
20 Programs
Heart Rate Control Monitoring
Pulse Grip and Polar Wireless Telemetry
300 lbs. max. User weight
Lift Assist Folding mechanism
Warranty: lifetime on frame, motor, parts & electronics, 1 yr labor
Compare Popular Endurance Treadmills at Amazon
The Buzz
Like the rest of the Endurance T6iHRC's parts and electronics, the multi-ply tread belt is guaranteed for life. The low maintenance phenolic deck has a suspended running surface design supported by a 6-point shock absorption system.
The motor is 2.5 HP Continuous Duty, and 7.5 HP Peak Duty, that is a standard size for treadmills in this price range, and is tough enough to power the rather small deck of 19" x 53". Nevertheless, the T6iHRC is not the best folding treadmill you can get at this price.
Treadmill reviews have been so-so; the machine is okay, the warranty is outstanding, but the past history of sibling models leaves a big question mark.
The Endurance T6iHRC wasn't involved in the company's recall in 2006 (of the T7, T8, and T9) but that doesn't help a lack of confidence in this folding treadmill. The recall involved problems with sudden accelerations, which immediately puts doubts in the minds of consumers and industry pros about the reliability of BodySolid's treadmill line-up, especially since they haven't been making treadmills all that long.
What We Say
Its MSRP is listed at $2,515, and is listed as being on sale for $1,700. Don't fall for it. At this price level, you would do better to buy one of the best treadmills in the business manufactured by Sole or a PaceMaster. This Endurance T6iHRC folding treadmill scores about average to above average for power, cushioning, programs, and noise.
Otherwise, the dollar value is not there when you compare it to other treadmills. To see a better alternative in a folding model, check out the Lifespan TR2000-HRC with its low RPM and cool running 2.5 horsepower motor, and cardio programming for under $1400.
Show me other Endurance Treadmills