Commercial Treadmills - How To Find the Best One
Did you know you can enjoy the quality of commercial treadmills in your own home? The prices on these elite club-level machines have been coming down, and buyers now have more options when deciding whether to get an upper-end residential model or go with a commercial machine.
What Is the Difference?
These are high performance, heavy duty treadmills. They are used in health clubs, recreation centers, pro sports training rooms, and apartment/condo clubhouses, as well as hospitals and schools. They are the most expensive type of treadmill and can handle very high usage: many gyms are open 24/7 and the machines are constantly in use with a mix of light and heavy users.
What to Look for in Commercial Treadmills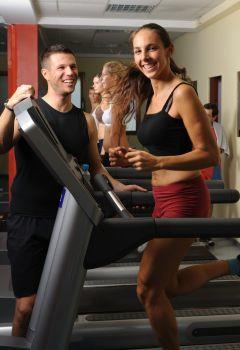 Home owners are getting in on the rush to buy a health club treadmill, which may or may not have a sibling model in the maker's residential line. Whichever type you're looking for -- commercial, light commercial, or residential -- we've put together a brief buyer's guide to give you an idea of the desirable features to look for in a treadmill:
Motor Horsepower

The heart of any treadmill is its motor and the general rule is: the bigger the better. Most commercial treadmills come equipped with a large CHP (Continuous Horsepower) motor that will be self cooling and run at lower RPMs. A larger motor (i.e., 3.5 – 4 CHP) will also provide a smoother ride.
Rollers
These aren't something most people think about but they are important for extending the life of the belt; that is, the larger the rollers, the less friction and tension, and the longer the tread belt will last. Generally speaking, rollers sized 2.5" or larger are fine, but commercial treadmills usually come equipped with 3" to 3.5" rollers.
Suspension and Deck
Heavy duty commercial treadmills are very high tech in terms of advanced cushioning and deck thickness. Reversible, phenolic wax-coated decks offer the longest life: just flip them over when one side wears out and continue using it. In addition, a health club treadmill will have shock absorbers located in the front of the deck to cushion the foot fall and have a firmer surface at the rear of the deck where the ball of the foot pushes off. You can also find models that allow you to adjust this cushioning to your preference.
Belt
We don't recommend an orthopedic belt since a good pair of running shoes provides all the cushioning you need. Also, orthos weigh more and put more strain on the rollers which shortens the life of the bearings. Using a four-ply belt on your treadmill is the best bet.
Frame
The frames on commercial quality treadmills are welded (rather than assembled with nuts and bolts) and composed of high alloy steel or aircraft aluminum. They'll come with lifetime warranties against any cracking or breakage. The machine should also allow for a max user weight of 350 lbs or higher.
Other Features
An incline up to 12% and speeds up to 10 mph are the standard on a health club treadmill; and interactive programming and personal trainer audio instruction (such as iFit) give the user years of superior workouts.
Warranty
A typical recommended warranty for a commercial model would include: lifetime on the frame, 12 years on the motor, 5 year on parts/electronics, and 2 years on labor.
We highly recommend that you always use a treadmill mat underneath your machine, whether it's a budget model or an expensive Cadillac of a brand. The purpose for the mat is to keep dust bunnies and other debris from being sucked up into the motor and shortening its life. It's an inexpensive accessory but one you should never be without. Read a few more treadmill maintenance tips to learn how to care for a heavy duty treadmill.

What are the best commercial treadmill brands?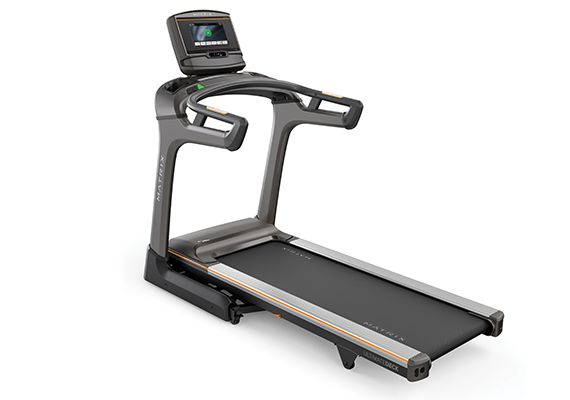 The best thing about buying commercial treadmills is that the quality and reliability are first rate; you can't go wrong buying most of them and customer service tends to be a lot better than with the lower priced machines.
As far as the best commercial brands, there are a few that stand out, offering top quality version of their popular health club models.
Your best bet is Matrix Fitness, a company that recently made a big jump into the home treadmill market.  They offer four different club-quality models, competitively priced and packed with great features including advanced cushioning, touch screen displays, innovative workouts and durable construction.
Also take a look at Life Fitness, a leader in the industry for many years.  They offer a wide selection of treadmills, including some new redesigned models that have been getting a lot of attention.
Start with those brands and see what you think of their current offerings. Just to give you a third option, Precor also has a nice selextion of commercial treadmills.