Invest in a Treadmill Mat - Protect Your Floor & Equipment
Other than a surge protector, a treadmill mat is one of the most important accessories you can buy for your machine.
It makes no sense to pay hundreds of dollars for a new motor plus the cost of repairing your treadmill when you could have spent just $40 and put down a mat to protect your machine's vital parts and components.
Oh, did you think we were going to say the treadmill mat was only to protect your floor or rug? Well, it does that too, but keeping dirt from getting up under the belly of the treadmill is the prime reason to make this small investment.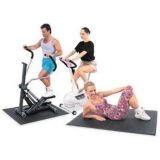 The treadmill's motor is the heart of your machine and a mat is necessary to help protect it. How?
When it's running, the motor builds up an electrostatic charge that sucks up every little dust bunny and spec of debris that wanders by almost as efficiently as a vacuum cleaner.
Once the motor gets clogged it doesn't run as well, it can overheat, and the result will be a shortened lifespan.
Inexpensive Protection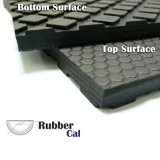 But the treadmill mat will also protect your wood floor or carpet as well, if that is your main concern.
If you didn't realize your machine would be so heavy until it arrived, you no doubt had trouble getting it up or down a flight of stairs and putting it in the exercise room.
Then you started imagining what 220 lbs of machine -- plus the weight of you running on top of it -- will do to your floors!
Even worse, a low-end treadmill that is not as stable tends to have some "movement" when someone is on it and without a floor mat it can easily scratch the floor.
Compare Treadmill and Exercise Equipment Mats Here
And one last point, you should consider getting a mat because it will also help to greatly reduce the noise level of the treadmill's rollers and motor, as well as the vibration.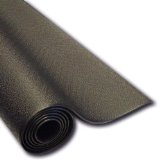 Fortunately, a treadmill floor mat is inexpensive.
There are ones that sell for as low as $30 and some thicker styles that can run up to $130. These are all non-slip designs with most measuring about 3 ft x 6.5 ft and are made of rubber or vinyl.
You can also buy inter-locking squares of 2 ft x 2 ft that can be configured to cover up to 24 sq ft.
Whatever your reason for getting one, you need it; don't operate your machine without a treadmill mat.
What's the Bottom Line?
A treadmill mat is definitely a wise investment and many of the top manufacturers, including NordicTrack and Sole, offer mats on their websites that you can purchase with your treadmill.
They will extend the life of your machine, reduce unnecessary vibration and protect your floors from damage at the same time.  It's a win-win all around.