Matrix Treadmills are High End and Impressively Built

Matrix treadmills might not be as well known as Life Fitness, Precor, TRUE and some of the other high-end brands, but rest assured these machines are right up there with the best.
They carry a hefty price tag, but for quality, features and ergonomics, they really can't be beat.  Plus they cost less than many of the other commercial models out there.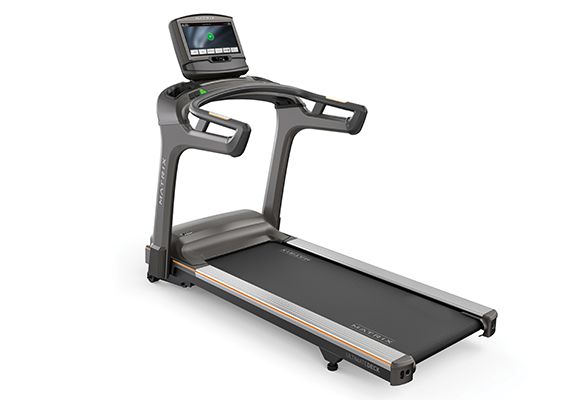 Matrix Treadmills Are Built Strong
Matrix Fitness is the high-end brand from Johnson Health & Fitness, the world's second largest exercise equipment company behind iFit Health.
The company also manufactures the Horizon and Vision brands, two very popular, more affordable names in the business that compete head to head with the major players in the industry.
Matrix makes very high quality cardio machines, including ascent trainers, ellipticals, ClimbMills, steppers, cycles and rowing machines.  They also make strength equipment including stations, free weights, racks, kettle bells and more.
Innovative technology and ergonomic design are key components of of Matrix's entire lineup, and all of their machines are built with top quality components that are built to last.
A Look at the Current  Lineup
One of the key features of all of the Matrix treadmills is that they are virtually maintenance free. The frames are heavy-duty and the deck is silicon lubricated, so you don't have to worry about any issues with the running surface.
The motors are all efficient, smooth and strong, and all of the components are gym quality.
The current residential lineup consists of two folding treadmills:  the TF30 and TF50, and three non-folding treadmills: the T30,  T50 and the T75.  
(Note that the T70 was replaced by the T75 for the 2018 model year)
The treadmills range in price from $2799 to $4699. 
You have a choice of four different consoles to customize your machine: the base XR with its 8.5" LCD display, the XER with a 10" touch screen, the XIR with a 16" HD touch screen and the top end XUR with a 22" HD touch screen.  
The three touch screen consoles give you Bluetooth technology and various apps, as well as iFit technology (found only on NordicTrack and ProForm treadmills) and additional built in workouts.
All of the treadmills feature a generously sized, well-cushioned running deck, up to a 15% incline, the powerful yet quiet Johnson Drive System, up to 12 mph speed and contact as well as telemetric heart rate monitoring.
You also get the patented Sprint 8 program, an incredible interval training workout that provides maximum results in a short amount of time.  Users really enjoy challenging themselves to complete the program and beat their previous bests.
All of the Matrix treadmills have touchscreen technology, iFit workout tracking, USB port and other enhanced features.  As you move up the lineup you'll find more comfort features and capabilities.

Which Matrix Treadmill Should You Choose?
You really can't go wrong with any of the Matrix treadmills, but certain ones might be a better fit for you.  If you have limited space in your home gym, look at one of the folding models...if space is not really an issue, consider one of the non-folding treadmills.
Let's look at the features of each to help you make a better decision...
Matrix T30
This is the new T30 is the entry level treadmill in the series, with a 20" x 55" running surface, 3.0 CHP motor, speeds up to 12.5 mph, up to 12% incline capability, Ultimate Deck cushioning, ViaFit workout tracking, Sprint 8 interval program and a 350 lb. maximum weight capacity.
Matrix TF30

The TF30 is the folding version of the T30, less compact but with a stronger 3.25 CHP motor and more incline capability: up to 15%.  Otherwise the two Matrix treadmills are very similar.
Matrix T50
The TF50 is a step-up model with a larger 20" x 60" deck and a 400 lb. max weight capacity.  Otherwise, it is identical to the T30.
Matrix TF50
The TF50 is essentially the same as the T50, except that it has folding capability like the TF30.
Matrix T75
The T75 is the most advanced Matrix treadmill, with a large 22" x 60" deck, a unique advanced 3.0 HP AC motor drive system and 12% incline.
For most users the T30 or TF30 will be just fine, as they have everything you need for a great workout.  
However, if you are on the taller side or there will be multiple users, you might want to bump up to the TF50 or T50 for the longer deck and higher weight capacity.
The Matrix T75 is a great treadmill, but might be more than you need for your home gym.
What about the three Matrix console options?
Choosing a console comes down to your budget and your specific wants/needs as far as programming and extras.
The base XR simple console features an 8.5" wide blue LCD display, with ViaFit workout tracking, Passport HD videos, Sprint 8 interval training program and 5 other built in workouts.
Moving up you have the XER Intuitive, a 10" touch screen that adds Virtual Active on board videos, Bluetooth capability, speakers, smartphone connection, USB port and entertainment apps and 14 built in workouts.
You then have the XIR Ultimate, a 16" HD touch screen with all of the same features as the mid level XER.  About $500 separates one console from the next, but you really do get more functionality on the more advanced consoles.
At the top of the line you have the new XUR, a 22" HD touch screen with all of the same features as the XIR.  About $500-$600 separates one console from the next, but you really do get more functionality on the more advanced consoles.
While all of the consoles are good, we would opt for at least the XER to get the touch screen and Bluetooth capability, as you can sync your workouts with your favorite fitness apps, watch Netflix shows, check your social pages...there's a lot more to keep you occupied, plus you get a lot of additional workout programs to choose from.
The top end XUR has an awesome display, but you don't necessarily need to spend an additional $500 to get a larger screen.  The 16" touch screen on the XIR will be just fine.

What the Pros Say About Matrix
Matrix treadmills receive great reviews from industry experts as well as those who have used the machines in gyms across the world and in their homes.  They ave received numerous awards over the years for design excellence for many of their treadmills, bikes and trainers.
They can be found at hundreds of gyms across the United States, including LA Fitness, Gold's Gym, Planet Fitness and at high-end clubs throughout Canada, Europe and South America.
Where can you buy a Matrix treadmill?  They are sold at specialty retailers like Leisure Fitness and One Source Fitness, as well as on the new company online site which features the entire cardio equipment lineup.  You can often save a lot more when you purchase them online.
Are Matrix Treadmills Worth Buying?
If you have the money and want one of the best machines you can possibly buy for your home then a Matrix treadmill is a great choice.  Several of their residential models top our Best Buy list in various categories.
The quality and craftsmanship is unmatched, and you'll get years of maintenance-free enjoyment from it.
They're competing head to head with Precor and Life Fitness, and prices are comparable between the three companies.  Matrix is certainly right up there with them, and if you can find one of these on sale it's well worth it.
Our favorites in the series are the folding TF50 and it's non-folding counterpart,  the T50.  
If your budget is more open and you just want the best the company has to offer, then take a look at the high-end T75 as well.  
The base T30 and TF30 are also great choice, and will save you a little money.

---