Bowflex TreadClimber Customer Feedback
by Anonymous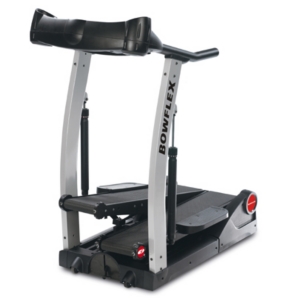 UPDATE: Please note that the following reviews are on older TreadClimber models. The newest ones, the TC100 and TC200, have received very positive reviews thus far as the company has made many improvements.

Read our latest reviews here.

See the latest models at special sale prices here.


---
My comment about Bowflex Treadclimbers is also one I left in another area. It is the way I feel about them and the other comment gave it five stars by accident. If that happens here after I leave this it is another accident.
I give any Teadclimber a negative ZERO -0. Beware of them and don't get taken for a ride like me. They are unreliable and bad news.
I know for a fact it was the machine. I have had two
Bowflex treadclimbers
and they both burned up.
Bowflex replaced the first one but the second time they claimed it was my fault. It was not the tech who put mine together told me it was in good shape brand new and should give me years of good service. then a year later it burned up like the first one.
I have found out later, that they are over priced and over rated. They work but have no durability. I was lead to believe mine had a commercial grade motor but it didn't. It is a home rated machine as all treadclimbers.
Home rated is sneaky Bowflex double talk for not durable enough for everyday use. I was told by Bowflex if you use it more than five hours a week it is heavy use. A commercial grade motor could take more use than that with no strain at all.
All the machine is is a piece of junk, I would buy a commercial treadmill with a 12% grade and 12 mile per hour speed rating. I have one now and you know what?
I spent a heck of a lot less on that commercial machine I have a lifetime guarantee on the motor and many bells and whistles the stupid treadclimber has none of at a higher price.
Bowflex treadclimbers are a bunch of crap. Get yourself a good machine. I'd stay away from the crappy treadclimber.
You will burn the same amount of calories if not more on a treadmill that has a high grade and goes fast. Even walking at 12% grade beats the crap out of the Bowflex calorie burn.
Think about it. I have had my say now I am gone.
Bowflex Treadclimber TC3000 Gives Me the Workout I Wanted
by Rick Jeannotte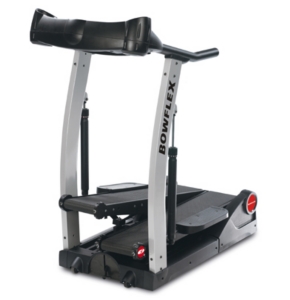 I purchased the Bowflex Treadclimber TC3000 in July of 2009 after seeing the Bowflex ad on TV.

I was impressed with the potential of this machine. I assembled the machine without any major problems. I used it for two months until one day while exercising it came to a sudden stop nearly throwing me off the machine.

I called the Bowflex customer service line. They were helpful and courteous and had me go through a bunch of tests but to no avail.

After a couple of hours on the phone they decided to ship me a new set of wires connecting the console to the Treadclimber TC3000's main board at the back. Got the wires 5 days later and installed them but not without a lot of problems because it required disassembly of the unit.

Once installed I re-calibrated the machine and got on it for a workout. 5 minutes later another sudden stop but this time I had braced myself anticipating the possibility.

Called back Bowflex customer service, this time I spoke with a different lady. She had me do all kinds of different tests which required me to dissassemble parts and we were on the phone for another hour and a half again to no avail.

She finally decided that I needed a new electronics board for the Treadclimber TC3000 and that she would ship it to me. I took pictures from different angles of the old board so that I would remember how to re-connect all the wires.

The board arrived 5 days later, I installed it (2 hours of work) re-calibrated the machine and got on it for a workout. It worked fine and has since that day.

I called back customer service and informed them of my success. I keep my fingers crossed that nothing else will go wrong with this machine because I love exercising on it. The Bowflex Treadclimber TC3000 gives me the workout that I always wanted just like they claimed in their ad.

There you have it. One last thing, I noticed that the components on the new electronics board they shipped me seem to be bigger and sturdier.

So this begs the question, why doesn't Bowflex install these new boards in their machines instead of having us go through this hassle...???
Bowflex TreadClimber TC3000 - Machine Quit Working
by Keith Hanchett
The Bowflex TreadClimber TC3000 and Bowflex customer service is garbage.

My machine quit working, I did the diagnostic as described in the owner manual. I told the so-called support staff that the machine was in a dry environment, that there was no corrosion. I also asked if there was a fuse in the system. The tech then told me she was sending a new board and cables for a total of $206.96.

The new board and cables arrived in five days. I upacked the box and noticed that the board did indeed have a fuse. I pulled the fuse out of the new board and placed it in the existing board and the machine powered right up.

I called Bowflex and asked why they would not just send the fuse, I was told that it was proprietary and that it was also a saftey issue of replacing the fuse.

It was much easier to replace the whole board. What a crock. Bad equipment, bad company.
Bowflex TreadClimber TC5000 User Review
by Debbie
(Hanover, Mass)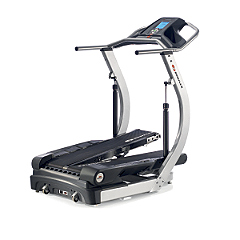 We paid $2400.00 for the Bowflex TreadClimber TC5000, after 10 months of use it broke down.

We called the company, under the opinion somebody would come out to repair it.

Well weren't we surprised. Bowflex sent us some wire that we had to disassemble the machine to replace, it didn't fix the problem.

We had waited 10 days for a part that was not needed, again called the company to be told they would send us a new board that "just plugged in".

We waited another week for "an expedited part". The part does not "just plug in", now 3 hours later the TreadClimber is totally disassembled again.

I would NEVER EVER consider buying another BOWFLEX PRODUCT. Considering the money spent and the lack of time it was owned, I would expect home repair service.

We previously paid $600 for a treadmill that we got 3 years out of. I will never listen to people saying you need to spend money to get a good product.

The kicker is that the results are no better than a treadmill. It's okay for cardio but I don't think you'll lose any more weight on the Bowflex TreadClimber TC5000 than on any other piece of equipment!
Bowflex Treadclimber TC5500 Motor Problems
by Gary Callen
(Chiloquin, Oregon)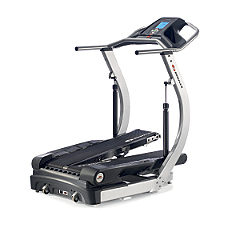 I bought my Bowflex Treadclimber TC5500 from a very nice young lady who realized after it arrived her house was actually too small for it.

For a few months she tried to live with her new TC5500, but after she started having motor problems she decided to sell it.

I was the sucker born at the correct minute for this Bowflex machine.

I bought it, took it home, and tried it, sorta. The next day the motor went out. Now I knew why she had that other huge box. It seems for a bad motor you get the entire treadle assembly. I exchanged motors, and the Treadclimber ran perfect for another month. Now, again the motor is out.

A call to Bowflex customer service enlightened me to the fact that their much touted warranty is only good for the original purchaser!!

Two motors going out so quickly tells me they not only have a motor problem, they have a KNOWN motor problem. Knowing this problem, and continuing to sell this defected machine is FRAUD!

We should all ban together to form a class action lawsuit!!!!!
Bowflex TreadClimber TC6000 - Cannot Live Up to the Hype
by Mrs. Tulp
(TX)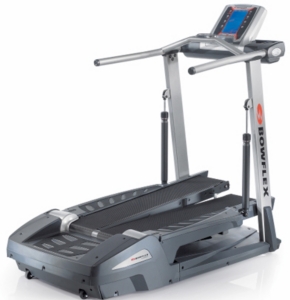 When my TC5000 died on me, I thought I would step up to a better model; therefore, I purchased a brand new in box-2008 Bowflex TreadClimber TC6000 in April 2008. It was delivered to my door on April 21, 2008.

Assembly was a challenge as the machine is tremendously heavy. I used it practically everyday because I love the idea of burning double the calories for half the time, and I must say, it does work.

Skip forward to August 4, 2008. Was about to complete my workout when the treddles shuddered and locked up. Over the course of 2 months, I had been smelling an electrical burning smell and the treddles were heating up enough to noticeably soften/melt the sole of my trainers.

Once during a workout, the TreadClimber TC6000 blew the circuit breaker. I will have to say, when I contacted Bowflex customer service, they were very easy to work with. They concluded that the motor had burned up (on a 3 month old machine!) and sent out a replacement motor.

Took over a week to receive (only one state away) and the electrical wires were severely damaged, so I improvised and used the existing wires.

Now with the installation of a new motor complete, thought I'd give it a try. Ten minutes into the workout, a noticeable smell developed and wafted into that old familiar burning electrical smell from before.

I did not get to finish my workout before the TC6000 blew the circuit breaker again. The awful smell permeated my house and there was a smokey haze in the air.

Did I mention this Bowflex treadmill is not even 4 months old yet and on it's SECOND motor already? I have sent another email to Nautilus requesting a replacement.

By the way, my TC5000 did the same thing as the Bowflex TreadClimber TC6000, however, I had purchased it used and I at least got a year of workouts from it before it went to Bowflex heaven!

Bowflex Treadclimber TC6000 - Started Having Problems at 4-6 Months (March 29/2009 Update)

Over the course of 2 years, I'm on my 3rd Bowflex TreadClimber -- 2 of which are TC6000's and both of those are/were less than 6 months old when I started having problems.

The first TC6000 I purchased new and after 4 mos. and 1 fried circuit board + 3 burned up motors later, Bowflex replaced it. I'm on my second TC6000 within a year and just yesterday, I had to replace the left strut because it had petered out leaving the treddles unbalanced to workout on.

I had parted the prior TC6000, so I didn't need to call Bowflex for the part. Not sure if that is even covered in the warranty. Geesh! This machine is barely 5 mos old!

I would really love to love this machine like I did in the beginning, but it is clearly demonstrating that it cannot live up to the hype. There is no way this machine could accomodate 5 users; it fails to accomodate only me!

I have concluded that if this unit dies on me like the other 2 did, and Bowflex does NOT replace it--as I've read in other reviews--then I will never purchase another product from Bowflex. After owning 3 of them in the past 2 years...my faith in them is a bit shaky.
Bowflex TC6000 - Another Machine with Motors Burning Out
by Alex J. MacRae
(Burlington, ON, Canada)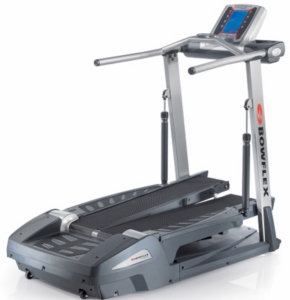 I experienced similar results as Mrs Tulp of Texas. I purchased my first Bowflex, a TC5300. I was upgrading from a conventional treadmill which was causing damage to my lower extremities due to the vigorous nature of my workouts.

Once I got the machine assembled, which was a bit of a challenge, I found the machine to be the Cadillac of exercise equipment; I literally became addicted to the machine with shorter workouts, lower impact, and higher calorie burn rates, it really delivered.

Once I became accustomed to the machine and really started to put some pressure on the machine I started to get a burning smell. I continued my vigorous workouts and eventually there was literally a pall of smoke in the room from the burning which I initially thought was one of the belts rubbing. I was to find out that the problem was the motor.

This is where my problems began with Nautilus and Bowflex. A replacment motor was dispatched but was delayed due to the company repositioning one of their depots. I arranged for the authorized service rep to install the motor paying him out of my own pocket as the company claimed that my labour warranty was only one year.

This guy was terrific, we ended up replacing about 5 motors before he was able to convince the company that he felt I had received a lemon and they should replace the entire unit.

Nice. The new unit, a Bowflex TC6000 arrived in January of 2009 and the service guy was on hand, to dissassemble the old one which the trucking company was taking away and unpack and assemble the new unit, sweet!

He really made it look easy putting it together and I was sure that I was on my way to reaching my fitness goals with what I considered the best piece of equipment on the market.

It takes a while to get back into the swing and rythm of the machine, and it was tremendously dissappointing to find that the new machine acted exactly the same way as the last machine.

I am getting a heavy burning smell coming from the motor with a little over 200 miles on the machine which is 9 months old. It seems to me that when you use the machine in accordance with their infomercial (20 minutes a day, 3 times a week) you should be good to go, but when I get into the rythm, I will go 40 minutes or so at 4 mph, the smell becomes noticeable at around the 25-30 minute mark.

I have tried changing my routine and even messed around with the piston settings trying to get the smell to go away but to no avail.

I am writing this as I have contacted my rep at the company asking for a replacement motor so I can have one on hand to install when the current motor dies but they are refusing to provide another motor until the one in the machine bites the dust.

It's a true shame that a machine with such potential and so many benefits seems to be underpowered. I am not the only Bowflex TreadClimber owner with this experience. Draw your own conclusions from my experiences; I am frustrated and will continue to request new motors until my 5 year warranty expires, then will look for a different piece of equipment to exercise on.
Start a new discussion with your own Treadmill Consumer Reviews.
Bowflex TC6000 - Part 2
by Alex J. MacRae
(Burlington, ON, Canada)
I contacted Bowflex in september to request another motor as I knew that the TC6000 was on its last legs.

I had gone through this process about 5 times on my TC5300 so I had some insight.

I received an e-mail from customer service while I was vacationing with my kids. "Sorry we can't supply you with another motor as you have a functioning motor", was their reply.

Infuriated I shot back an e-mail conmplaining that they seemed determined to have me not exercise rather than provide me with the parts to continue my exercise program. I had been a cheerleader of their equipment because it was so much better than coventional treadmills until these problems cropped up.

The motor bit the dust last night (Oct. 15th). I fired off an e-mail giving them the good news. Amazingly I got a call from customer service today asking what they could do. I told them to give me back half my money, they could have their defective machine back and I would move on.

Well, that's not gonna happen, was the reply (it was expected). So I said well send me another motor as another rep had inidcated in an e-mail that the motor would only be replaced when the old one was dead. Incredibily (but not surprisingly) this guy says to me well I can't send you out another motor until it is ok'd by a supervisor!

Wow, so much for a 5 year warranty! They blame me for the first machine (shipped May 2007) getting trashed by their trucking company, but they did send me a replacement. By the time I needed my first motor in August of 2008 they told me I was out of warranty even though I had only had the machine since Sept. 2007 because the first machine was shipped in May 2007.

So far I have paid their service guy about $600 cash to replace the motors and also to tear down the TC5300 and assemble the TC6000 in January when the new one arrived.

I gave him a call to let him know I would want a service call to install the new motor when it arrives and he said that Bowflex had pulled all their commercial machines out of the gyms. Seems they all had the same defect as us other poor suckers are stuck with, motors burning up, hmmm? If they keep marketing this thing it should build a strong case for a lawsuit I think.

If you are serious about exercising and want a reliable piece of equipment and some customer service that's not laughable at best, do yourself a favour and don't buy anything from Bowflex or Nautilus.

They really drop the ball when it comes to this. I have spent more time waiting to hear back on problems and replacement parts than I have exercising.

My original machine clocked 1600 miles in 4 years then was passed on to a family member and is still at work 6 years after it was originally bought. I am on my 2nd treadclimber and 6th motor or so in 14 months, don't waste your time on Bowflex.
Bowflex TC6000 - "BAD CHOICE"
by Dr. John
(Fort Lauderdale, Florida)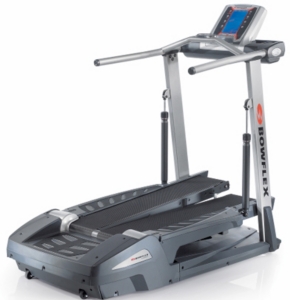 I too purchased a Bowflex TreadClimber TC6000 treadmill, which was supposed to be the best machine available, along with the revolution home gym and the free weights all produced by Bowflex. With all of the assessories and everything that I bought I spent close to $10,000.

Although the free weights and the home gym continue to function as advertised, the TC6000 is literally a piece of junk.

I had to purchase a new motor as the original one burnt out in less than a year, and then the right deck, which fits under the tread to provide support, melted in spite of the fact that I used graphite spray religiously as stipulated in the Bowflex tread climber assembly guide and owner's manual.

My frustration was that the right and left decks are not available and Bowflex has ceased to support the machine with repair parts.

If you need a good cardio machine I would highly recommend going to www.landice.com and look at their elliptical machine. It's a little more expensive, but it has a lifetime warranty on parts and is the same as their commercial unit but because it's recommended for the home they give it a lifetime warranty.

I'm currently saving my nickels and dimes to buy a Landice elliptical as I have researched it the way I should've researched the Bowflex prior to buying it and didn't.

Now that I've wasted a significant amount of money I've done my homework and Bowflex is not the way to go!!
Bowflex TreadClimber TC5000 Cracked Treadles
by Kevin Hobart
(S. Amherst, OH)
Bought a Bowflex TreadClimber TC5000 two years ago, had it about 2 months, than noticed the plastic on the treadles were getting cracks. Called Bowflex, they sent out new treadles, 1 year later there are cracks in this set of treadles. Will never buy Bowflex again.
Start a new discussion with your own Treadmill Consumer Reviews.
Bowflex Treadclimber Marketing Hype
by Tina
(Austin, Texas)
I purchased a Bowflex TreadClimber almost 2 years ago hoping it would deliver the results (or even some of the results) the product promises in its advertising.

While I know there is always exaggeration in commercial advertisements, I can't tell you how disappointed I've been with the TreadClimber purchase. I use my TreadClimber faithfully (much more than the advertised 3 times per week for only 30 minutes).

I am usually on it 4-5 times per week (some weeks even more). I started at the suggested 30 minutes but have even increased my time from 30 minutes to 45 minutes per session hoping (just by some chance) for better results.

I still have not come close to achieving the results I saw advertised when I purchased my machine or that I recently saw in a commercial for the Bowflex TreadClimber a few days ago. In 2 years (and this is along with a diet regimen...just in case you might think I eat away all the positive affects the machine has to offer)

I have lost a whopping 6 pounds....that's it, 6 pounds.....not the 4 or 5 dress sizes or the 30-40 pounds or the leaner, swimsuit ready body, or the body I haven't had since high school.....6 pounds!!!!!

While I know there is always hype in advertising and that in the small print at the bottom of the TV that no one (not even with their reading glasses) can catch and read, I feel that Bowflex needs to take a look at what they are promising to sell their product.

I am getting no better results than if I went outside and walked in my neighborhood, and believe me it would have been a lot easier on the pocketbook (if I had decided on the outside option)!!!!

This is one product I cannot recommend to my friends....at least not over any other machine out there, especially with the hefty price tag that accompanies it.
Start a new discussion with your own Treadmill Consumer Reviews.
Bowflex BXT216 Treadmill Not So Great
by Joe
(Portland, OR)
We've had a decent treadmill we got used and, having practically worn it out, decided to upgrade so bought this Bowflex new. We should have done more homework. It was a mistake.

The belt and deck are great. And it's very quiet. But it's like the rest of it was designed by someone who doesn't actually walk or run. My wife likes to walk, my kids and I like to run. None of us are pleased. Here are our complaints.

Speed is only in mph, not pace. Pace is the most common way to measure running speed. How can it not show pace???

The smallest display increment for distance is tenths of a mile. So, you walk for a while with no feedback on how far you've gone.

Speed changes are slow. If you like to go from, say, 4 mph to 7 mph, it'll take a bit. Minimum incline is 1.0
Quick Speed selector buttons are in awkward increments: 1,3,6,9,10,12?
Incline buttons are also at awkward increments
Speed and incline buttons require verification, not a quick one touch.
Bluetooth ONLY does connectivity for the app. No music. No connecting to apps via Bluetooth.
No volume control for the music you play by plugging your phone into a wire
Heart rate grips do not work
No indicator for fan speed

I may return this thing, if I can figure out a way to do so. It weighs a TON!
Start a new discussion with your own Treadmill Consumer Reviews.
"Treadclimber/Treadmill review"
by Betty Collins
(Mt. Pleasant SC)
Beware!!! When purchasing equipment from Bowflex just know after the warranties run out and the machines go down you will pay outrages prices for repairs and Bowflex won't bend when it comes to offsetting some of the maintenance cost.

Well, as of today, they have lost a customer. I have spent thousands of dollars purchasing equipment from this company so when I call and state that I have two machines that need maintenance and I'm being charged 2 separate maintenance cost of $189 per machine that's ridiculous.

I rather pay $10.00 membership at Planet fitness than to pay bowflex these ridiculous maintenance fee.
Start a new discussion with your own Treadmill Consumer Reviews.
Treadclimber
by Dan
(Washington D.C.)
RUN FOR THE HILLS!!!!

This is the last time I try to contact this company. Here's a quick synopsis of the horror story that is this company. 2 months ago I was told by Nautilus to contact a company called Go Configure to repair my treadclimber.

1. Nautilus originally told my the problem was the circuit board. I paid $150 for a circuit board, installed it myself and it did not resolve the problem.

2. After troubleshooting on the phone with them for 2.5 hours they then said it was not the circuit board, but the motor. Had to spend another $180 on the motor.

3. Soonest they could have a tech come in was 3 weeks later. Tech shows up that day, installs only the motor and walks out of my house leaving the rest of the machine in pieces. See attached photo.

4. After about 20 more phone calls they say they are sorry for what happed and will have another tech come out 3 weeks from now.(coinsidently on the day my wife is supposed to give birth to our first son-no joke.

I tell them that and they ask if my wife can deliver the baby on another day so it doesn't conflict with the techs installation appointment. SPEECHLESS!
Start a new discussion with your own Treadmill Consumer Reviews.
Bowflex Treadclimber Bad Experience
by Sue
(Indianapolis)
I purchased a Bowflex Treadclimber. Just be aware that they need calibrated constantly, which is no easy feat. Every single day I used the Treadlclimber I had to get on my hands and knees and calibrate it or it would not work at all. Every. Single. Time. I. Used. It. Horrible. I tried over and over to get help -- surely you don't need to calibrate this thing (and again, tedius and time consuming to calibrate it). FINALLY someone came to my house, claimed it was fixed, but it wasn't. I had this terrible machine for a year and hated it every day.
Start a new discussion with your own Treadmill Consumer Reviews.
TreadClimber TC200 - Nautilus Fitness Review
by Karla
(Canada)
I would love to say great things about the TreadClimber TC200, however I STILL HAVE not received it.

Buyer be warned!!! When buying for Nautilus Fitness, expect to wait 2 months for delivery. Than when delivery finally happens, expect to go home and see your $3,000 machine sitting outside in your driveway, as NO signature is required. Do NOT spend the $250 on assembly, as that takes again ANOTHER week!!!! So, when Bowflex raves that you can have in home assembly - be prepared to leave your equipment outside for them to move it in.

WASTE of money and time!!!!!

Not impressed and will never buy from either Bowflex or Nautilus again!!!!!! Horrible customer service.
Start a new discussion with your own Treadmill Consumer Reviews.