The Bowflex TreadClimber TC5000 – Great Workout, Bad Design
The Bowflex TreadClimber TC5000 comes with unique "Dual Treadles" which are two independent belts for each foot. It's is advertised as a treadmill, stairclimber, and elliptical all in one.
The problems are obvious: the machine is too short for treadmill purposes; lacks the advanced features of high-end ellipticals, and … few people want to own a stairstepper!
The Machine
The Bowflex TreadClimber TC5000 does have some cool features on the dash, such as the Climb Indicator that graphically displays every 100 feet of elevation you attain during your workout.
The Quick Start Feature remembers your last weight and resistance settings so you don't have to enter them again. It also has eight functions on its LED readout: Speed, Distance, Total Steps, Time, Calories per Minute, Total Calories, Climb Indicator and Heart Rate.
The TreadClimber TC5000 features: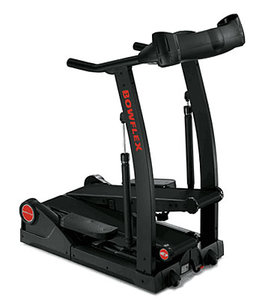 0.7 - 4 mph
0-12 Resistance Settings
Polar® Wireless Heart Rate Sensor
300 lbs. max. User weight
Transport Wheels
Warranty – 5 yrs Motor, 3 yrs Parts & Electronics, 2 yrs Hydraulics
The Buzz
UPDATE: As of Summer 2021 Bowflex has discontinued both TreadClimber models in favor of their all new traditional treadmills. Check out the Treadmill 10 & Treadmill 22 as an alternative.
The TreadClimber TC5000 comes backed by the Bowflex 100% Satisfaction Guarantee but that only covers you for six weeks. Once you take a closer look at the limited warranty, you'll see why this isn't a deal.

There's no labor warranty for one thing and these machines are known to break down. You might enjoy your TC5000 for a year or two — until the motor dies, or one of the treadles starts squeaking loudly, and then it becomes a nightmare to repair.
These Bowflex TreadClimbers made a big splash at many health clubs at one time, but they are starting to disappear and aren't being replaced once they break down. The TreadClimber will fail eventually, long before a traditional treadmill will.
Treadmill reviews by users are all positive about the workout they get on the split treadles and they have lost weight. The downside of the TreadClimber TC5000 is the lack of quality in the components, poor workmanship, questionable customer service, a noisy workout, and some users report the striding motion is painful on their hips.
Potential buyers should note that there is no labor warranty; that means that Bowflex will send parts covered by warranty, but you must install them yourself — motors, belts, circuit board, the works. This is bad news for anyone who isn't a trained treadmill expert.
Take the information provided by reviewers for what it's worth: this is not a trouble-free machine.

What We Say About the TC5000
Great workout. Innovative idea. Bad Design. Terrible Warranty. And the excess maintenance issues — the pits. We recommend that you stick with traditional designs: either a treadmill for walking and running, or get an elliptical for low-impact aerobic workouts.
If you can find a TreadClimber at your local gym, work out on it there and enjoy yourself. But don't bring this headache home — unless you're an equipment technician. For $2499, the Bowflex TreadClimber TC5000 is better left at the health club.