The Bowflex TreadClimber TC5500 – Dinky Motor, No Labor Warranty
The Bowflex TreadClimber TC5500 is the Cadillac model of the TreadClimbers line, priced in the nosebleed section at $3,299. That's a lot to pay for a sewing machine motor.
What You Get
The display has 15 readouts — Time, Distance, Custom, Calorie Count, HR Workout, and 9 Landmark Challenges — and a climb indicator that visually tracks your distance in miles. The personalized profile stores workout results for up to four users.
The list of specs ob the Bowflex TreadClimber TC5500 includes: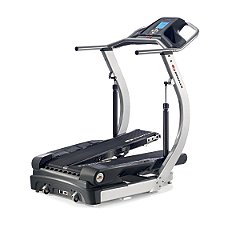 0.5 – 4.5 mph Speed
12 Resistance Settings
15 Workout Programs
Polar® Wireless Chest Strap
Transport wheels
300 lbs. max. User Weight
Weight/dimensions – 217 lbs / 4' 7" x 2' 7.5" x 4' 7.25"
Warranty – 5 yr Motor, 3 yrs Parts & Electronics, 2 yrs Hydraulics
The Buzz
UPDATE: As of Summer 2021 Bowflex has discontinued both TreadClimber models in favor of their all new traditional treadmills. Check out the Treadmill 10 & Treadmill 22 as an alternative.

While it's not exactly a treadmill, stairstepper, or elliptical, nor is it designed to be the best of all of them, the Bowflex TreadClimber TC5500 is an odd machine that is not worth separating yourself from almost $3,300. On first sight, these machines appear impressive.
They are solid as a rock weighing 217 pounds, but that's the frame only; underneath is a collection of inferior parts. For example, you have to research to find out the size of the motor (which is underpowered) on this thing. If it were anything to brag about, it would be featured on the specs.
Bowflex invented a new marketing strategy called G.O. Coach (Goal Oriented) technology to track your specific fitness goals – but that kind of software is included on other treadmills in the high-end range already so it's not that much of a cool feature.
The big issues are the poor execution of design and lack of quality. We won't list all the problems with the TC5500 and the other TreadClimbers here, but will direct you to our page on Bowflex TreadClimber consumer reviews where you will read owners complaints about failing motors.
Trainers recommend you get a standard treadmill with a 12-15% incline, which is sufficient for people who want a machine with the option to substantially increase intensity. Another option is to look at a 40-degree Incline Trainer in the $1500 range, or get an elliptical.

What We Say About the TC5500
Bowflex TreadClimbers are so over-priced they are not worth the bother of including them in treadmill reviews except that it is good public service to warn people about them.
The TC5500 and the other TreadClimber models might look cool in the TV ad, but just know that they are not well designed, they have a lot of plastic parts and a dinky motor, there's NO labor warranty, the stride motion is painful to some users, and the repair issues are a nightmare.
If you have $3,299 budgeted for a luxury cardio machine, skip the Bowflex TreadClimber TC5500 and take a look at Freemotion and Landice treadmills.