True Treadmills – Top of the Line Models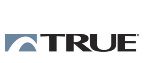 True Treadmill Reviews
Top ranked True treadmills have an award-winning lineup to choose from. True is one of the most highly respected names in the business and have been since their inception in 1981. True treadmills are the most stylish machines you'll find on the market especially the distinct sweeping pedestal handrails on the ES models made from solid steel plates. Along with the elegant look, their top machines offer superior suspension, deck, belt, rollers and electronics — all commercial grade — which makes for long life, durability, and a solid, comfortable ride.
Super Quiet, Excellent Suspension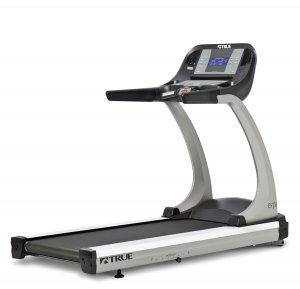 The True Fitness ES line (top price: $5,899 ), Z series (the fold-ups), and the lower end PS treadmills (starting around $2,199) get a perfect score for walking area and cushioning, super quiet motor, long warranty and overall quality. But where True machines really stand out is in the deck cushioning; the Neoprene shock absorbers located in the front part of the deck serves to cushion the foot strike while the back section of the deck has a firmer surface for the push off. All True Fitness models include the patented Soft Select™ in which you can adjust the level of softness or firmness of the deck to your liking as well as an orthopedic belt.
See the Residential Treadmill Line at True Fitness
Truly a Cut Above
True Fitness treadmills are sturdy 500+ lb machines that can hold a max user weight up to 500 lbs., with roomy running area of up to 23"W x 63"L on the largest machine, plus big commercial rollers (3" to 3.5"), and long-life reversible flex decks. The warranty is excellent: lifetime on the motor; premium parts have a 10-year warranty; and labor is covered for two years.
The Pros Prefer the Elite Models
True sells a limited number of models in the line but they should really stick with the elite, commercial lite treadmills which is their forte. The less expensive units are good machines, but fail to score the ultra high marks that the higher priced sibling models do.
A Serious Machine
True Fitness treadmills win many Best Buy awards from review sites such as Treadmill Doctor as well as leading consumer products and fitness magazines. At this price range, though, you have to weigh the difference and aesthetics of buying a True, versus a Bodyguard, Star Trac, Landice, or Lifefitness, all of which make up the top competition in the over $3,000 price range for treadmills. True treadmills are sold only through authorized fitness equipment dealers in specialty stores.
Click here to write your own review!
Model Reviews
True ES7.0 Treadmill - a solid machine for achieving great cardio and calorie burning workouts.
True ES9.0 Treadmill - Top marks in reviews for stride space, quietness, cushioning, powerful drive and incline motors, programs and outstanding warranty.
---
Return from True Treadmills to the Treadmill Reviews Home Page