The True ES9.0 Treadmill – A Commercial Quality Residential Model
The gorgeous lines of the True ES9.0 treadmill highlight the framework for a hard-working, commercial quality home machine. Attracted by the stylish design, and innovative features such as a negative -3% incline and expanded heart rate training programs, consumers are eager to learn what else this model has to offer.
The Machine
The True ES9.0 treadmill has an 11" LCD screen mounted in a wrap-around console and flared handrails. Standard programs include Manual, QuickStart, Calorie Burn, Hill Intervals, Speed Intervals (2), Speed Ramp, Glute Buster, Leg Shaper, and Cardio Challenge. The heart rate control workouts include 4 Distance, 5 Target, and 5 Interval. It also has a 21-24 week customized HRC workout planner feature.
Other specs on the True ES9.0 include: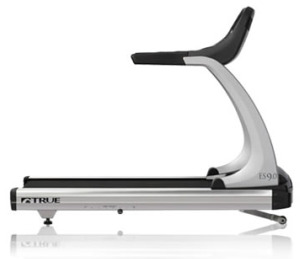 4 hp DC QuietDrive™ Motor
0-12 mph
-3% to 15% Incline
22" x 60" Belt
10 Programs, Plus 3 Custom & 3 User Defined
14 HRC® Workouts
Contact Heart Rate: Digital CHR
Polar® Wireless HR
Soft System® Surface: 8 Adjustable Levels
TRUE Fidelity™ five-speaker audio system
iPod® Compatible
USB Port
400 lbs. User Capacity
Personal Cooling Fans
Reading rack, 2 Bottle Holders, 2 Accessory Trays
Machine Weight: 420 lbs
Warranty: lifetime on frame & motor, 10 yrs parts, 2 yrs labor
The Buzz
UPDATE:  The TRUE ES 9.0 has been replaced by the new, upgraded ES900 model.  Check it out on sale here!
The curved pedestals are made of roll formed steel so that even larger individuals will experience a solid running platform with no shake or vibration.
The True ES 9.0 treadmill offers neoprene shock absorbers in the front third of the deck which cushion every foot strike, while at the rear of the deck where your back foot pushes off, the cushioning is firmer. Another interesting feature of the True ES9.0 is the negative 3% incline, which will helps to develop the quads while simulating downhill sections of hill climb programs.
The True ES9.0 is a serious machine for home gym users. Treadmill reviews cite the elegant features of this high performance machine but also point out that it delivers reliability and numerous training options.
For example, fitness buffs can utilize the HRC Cruise Control™ that locks in on your targeted heart rate and then adjusts speed and incline automatically throughout the duration of the HR workout. This takes the guesswork out of your daily running regime, and helps you achieve maximum cardio benefits and fitness results that much faster.
What We Say
If a $5,899 machine is within your budget, then the True ES9.0 should be on your short list, at least in the top three if not the top choice. For stride space, quietness, cushioning, powerful drive and incline motors, programs, extras, and an outstanding warranty, this residential treadmill is hard to beat.
If you are currently running on a commercial machine at your health club and want the best at home, don't go with an inferior treadmill. Spend the money and do it right. The True ES9.0 treadmill will last for 10 years or more and prove its value day in and day out helping you to reach your training goals.