Replacing Treadmill Motors – Do it Yourself and Save on Costly Repairs
Repair, rebuild or replace? Treadmill motors are such a vital component of your machine that you want to be able to get the best solution when your treadmill malfunctions. Some motor problems can be repaired, but if the motor is blown or completely burned out, it's time to get it replaced.
What Made the Motor Fail?
Dust is often a factor in motor failure but, hands down, the major problem stems from a worn belt or one that has not been lubricated, and this causes a great deal of strain on the treadmill motor.
This is taking into account that you've got the right treadmill for the amount of exercise you do.
Ideally, if you run on a treadmill the motor's RPMs should be lower than 4000; if you're a walker, the RPMs should be under 5000. Motors that spin faster than this are bound to overheat and you're just asking for trouble.
The First Place to Look for a New Motor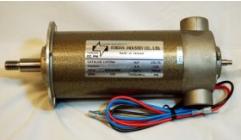 Going online offers the convenience, competitive prices, and selection that you won't be able to find around town in box stores. The majority of treadmill motors that are sold online at Amazon.com are supplied and shipped by Treadmill Doctor, a respected information site that also offers repairs on most makes of machines including ProForm, Healthrider, NordicTrack and more.
Find Replacement Treadmill Motors and MCBs at Amazon.com
Make Sure the MCB isn't Burned Out
If it's not the motor that's giving you problems, it could be the motor control board or MCB which is one of the main repair problems on most treadmills.
You can mess it up due to improperly grounding the machine as well as power surges (buying a $30 surge protector will correct that problem!) but they can also fail - again, due to lack of lubrication on the belt. Just as you want to protect the computer display on the console, you should also be aware of protecting the MCB.
Like treadmill motors, you can find replacement control boards online at Amazon, such as an Icon Fitness treadmill motor control board. This will fit any of Icon's extensive line of treadmills which includes ProForm, NordicTrack, Image, HealthRider, Sears, and Reebok.
You'll need to order either the MC-60 ($80) or MC-70 ($170) board. Treadmill motor control boards are easy enough to install; just plug them in like you would additional memory on a computer motherboard and you're ready to go.
As with all treadmill parts, check your warranty first as treadmill motors on many of the elite models come with a 10-year, or even a lifetime, warranty. But if you've made the decision to replace the motor by buying it online, you can be assured it will be new, factory direct and easy to install.