LifeSpan Treadmills – Hidden Quality, Award-Winning Results

LifeSpan Treadmill Reviews
While it's unfortunate Lifespan treadmills don't get the proper attention they deserve, we'll try to right this injustice now. There are hundreds of makes and models of cardio exercise machines out there and LifeSpan tends to get overlooked. Well, not around here they won't!
They Carved Their Own Niche
PCE Health and Fitness, based in Utah, has been making treadmills and elliptical trainers since they began the Lifespan brand in 2001. They focus on the "over 55, value conscious" crowd to promote active living and they design equipment that is user friendly with no "learning curve." Not only are Lifespan treadmills a great value for the money, but they also target the compact treadmill niche that other manufacturers tend to treat as an afterthought.
When a SpaceSaver is a Space Saver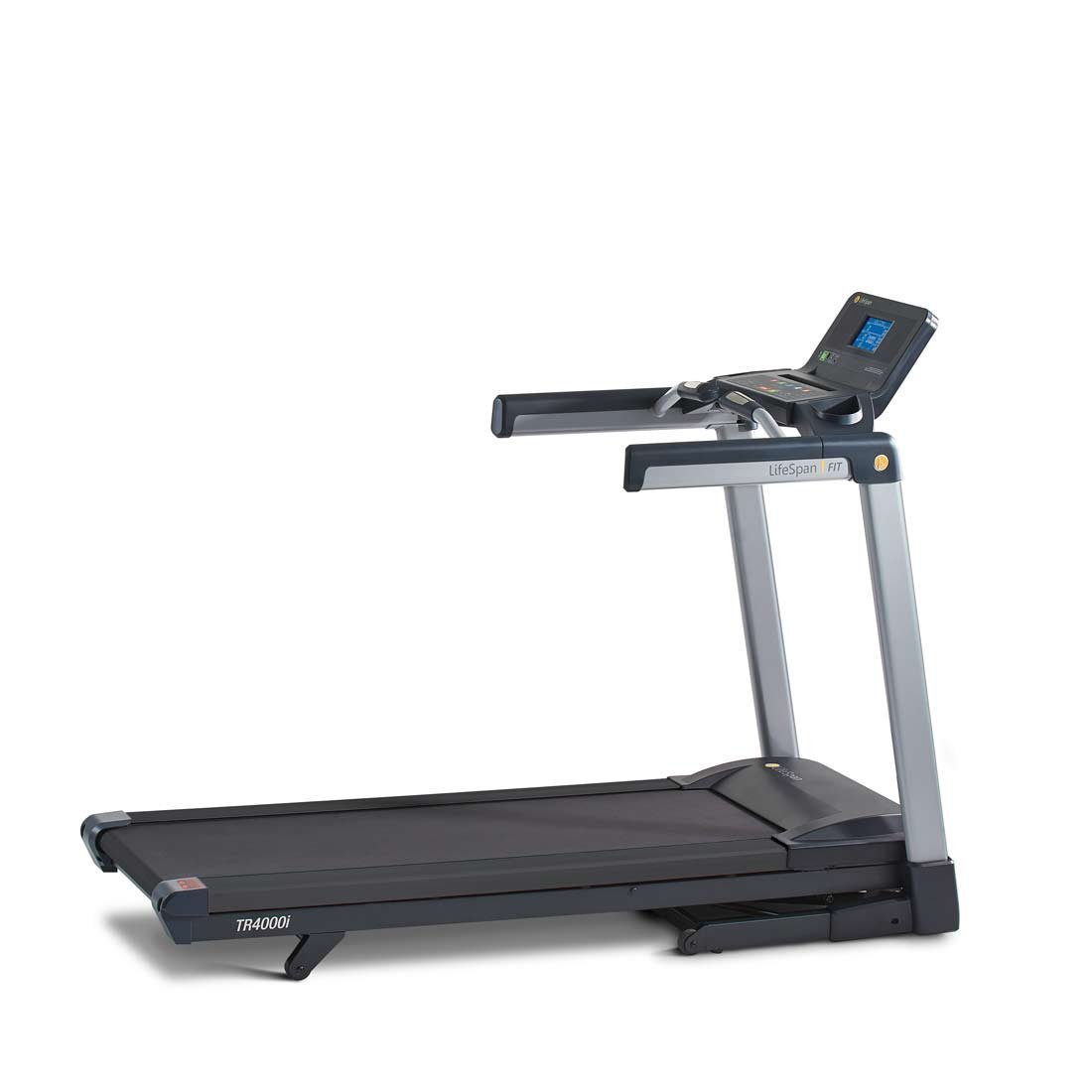 There are lots of folding treadmills that "save space" when they are put away, but what about when it's in use? What if you don't want a monster machine sprawled out across your home gym floor or family room? Lifespan offers the smallest unit on the market; they've invented a treadmill with a motor mounted under the belt to make it 14" shorter than their other units with the same 56" tread belt. Imagine that.
The Hidden Quality
Under the hood, Lifespan engineers pulled out all the stops and put in some of the best components found in treadmills. Some of the things you'll find include incredible cushioning and shock absorption, solid frames with wraparound handlebars, safety features, basic and no frills cardio workouts, and long warranties.
Compare Prices of All of the Popular Lifespan Models
The current model lineup consists of the TR1200i, TR2000e, TR3000e, TR3000i, TR4000i, TR5000i and the TR7000i, ranging in price from $899 for the popular, entry level Lifespan TR1200i to $3,499 for the top of the line TR7000i Commercial model.
On all models, the belt is pulled over large high-quality rollers, and the treadmill's quiet, cool-running motor operates at low RPMs for consistent performance. Step back from the machine and you'll notice they have an elegant profile on all the machines, no matter what the price level.

Award-Winning Results
Reviewers, who were unfamiliar with this treadmill brand, come away impressed with the line's solid feel and low-impact performance. Lifespan's $899 machine ranks on many Best Buy lists, as does their top end model. If you're especially in the market for a good size treadmill that will somehow magically fit into a small space, or have joint troubles and are looking for one of the better cushioned decks, Lifespan treadmills are the niche machines you're looking for.
Click here to write your own review!
LifeSpan Treadmill Model Reviews
Most Popular Models
Lifespan TR1200i - This Lifespan folding treadmill gets an astounding number of positive reviews from customers for its ergonomics, sturdy design and self-folding mechanism. A GREAT BUY if on sale for $999.

Lifespan TR2000 - Folding treadmill rates well in reviews for belt size, noise level, warranty, power, cushioning, programs, component quality, negative incline, step counter and overall value.

Lifespan TR3000 - An attractive folding design delivered at an incredible price.
Lifespan TR4000i - Folding model has won numerous awards in reviews from Treadmill Doctor, Health Magazine and Runner's Magazine; a very solid, powerful, and quiet machine.
Lifespan TR5000i - The award-winning TR5000i has been hailed as one of the most innovative new models on the market while receiving outstanding reviews for its superior motor and overall value.
Treadmill Desks
LifeSpan TR1200-DT5 - The most popular desk treadmill in the lineup with adjustable height and Bluetooth technology built in.
Older Models
Lifespan TR200 - At just 11" high when lying flat, this compact folding treadmill conveniently fits under a bed or stands up to store behind a door.

Lifespan TR800 - A basic folding treadmill for light use with many of the same cool features as pricier Lifespan models including the hydraulic folding system and quality components.
Lifespan TR1000 - Folding model gets good marks in reviews for cushioning, low noise level, heavy frame, HRC programs, warranty, and the folding system; remarkably quieter than competitor models.
---