Healthrider Treadmills Get Mixed Reviews

Healthrider Treadmill Reviews
Healthrider treadmills are manufactured by the fitness giant ICON Fitness. Although there are several models available in the $800 to $1,600 price range, the jury is out on whether you're getting what you paid for with these machines. Part of the problem is that ICON just doesn't seem to back up their low- to mid-range products much with customer service or support.
It's a shame that you don't get the benefit of ICON's huge research and development money when you look at HealthRider Treadmills, but most of that investment seems to go toward their higher end brands. Although there is some innovation on these treadmills, some experts don't see them as real improvements.
Soft Track Design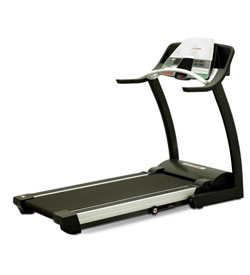 Healthrider heavily advertises the advantages of the Soft Track tread belts on their treadmills. These combine a thicker, foam padded belt with an impact isolation system underneath the deck that is designed to cushion the joints more.
Compare HealthRider treadmills at the Official Store
While some consumers swear that this does indeed provide more comfort, Healthrider treadmill reviews by fitness professionals warn against this feature. The problem? Most Healthrider models have motors that aren't as powerful as they should be for such heavy, thickly padded belts, so the motors tend to burn out quickly. There are also some complaints about a sensation of "grab" when running on the belt that is attributed to the extra thickness of the tread belt.
Pros and Cons Cancel Each Other Out
The iFit compatibility that ICON has included in most Healthrider models is a definite plus, adding to the enjoyment and variety of a workout. These treadmills are also attractive and come in a variety of styles, but the cons cancel out the pros. One problem is that Healthrider uses a lot of plastic parts and electronic components from overseas that wear out quickly. This wouldn't be such a big issue if the warranty was really good, but ninety days just doesn't do it when you're shelling out $1,000 or more for your treadmill.
The end result is a product that's only good for walking or mild jogging. And if you buy a Healthrider treadmill, you'll probably have problems after the warranty expires. With ICON Fitness having a mediocre track record in customer service, you may want to look elsewhere.
Click here to write your own review!
Model Reviews
Healthrider H75t - One of the better designed and better built treadmills in the under $800 category.
Healthrider H90t - Decent value if you can find it on sale for $700.
Healthrider H95t - An amazing find for under $1000; above average scores for powerful motor, big running deck, cushioning, feature-rich console and overall quality and design.
Healthrider H155t - 7" TV, 35 workouts, 1-touch speed and incline controls, 12% max incline level, 3-speed fan and lift-assist folding mechanism. Good deal if on sale.
Healthrider R60 - Very good for avid walkers, but serious runners may want to take a pass.
Healthrider Pro H500i - Cardio + strength training for total body fitness: fairly good value for casual walkers.
---