NordicTrack X5 Considered Best Incline Treadmill
NordicTrack offers the best incline treadmill with its NordicTrack X5, an unusual piece of equipment that combines the best of stair steppers with the best of treadmills. By providing an incline of up to 30%, the X5 gives you a better workout of the glute muscles and a much more challenging cardio workout in the same amount of time and distance than you would get without the incline.
The Machine
We rank the NordicTrack X5 incline trainer as the best incline treadmill for several reasons, not just because it has the steepest incline versus other brands. That alone makes it interesting, but it wouldn't be great unless other features were high quality and could back up the innovation of the steep incline. You also get: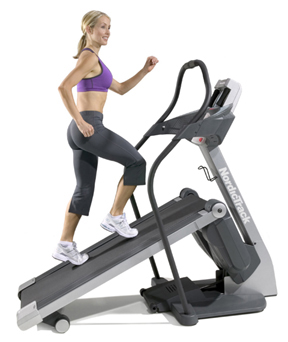 0-10 mph capability
2.0 HP continuous duty motor
Wireless heart monitor
iFit compatibility
Impact absorption deck
20" x 52" running area
23 programs
Upper body cardio cables
300 lbs. user weight capacity
30% maximum incline
Folding capability
Lifetime motor warranty; 1 year parts/labor
The Buzz
UPDATE:  The X5 Incline Trainer has been discontinued and replaced with all new, upgraded incline trainers for the new year.  Check them out to find the one that appeals to you.
There is a lot of talk about the great workout you get with NordicTrack's X5 incline trainer because of the ability to set such a steep incline – up to an impressive 30%. In fact, for a price of around $1,600 on sale (NordicTrack has frequent sales), you're getting plenty of features.
Trainers and fitness buffs love the versatility of the NordicTrack X5. They consider it the best incline treadmill because it not only has a wide range of incline settings, but because it also offers something really unique in a treadmill – an upper body workout! Cardio cables can be set for eight different resistance levels to work the upper body while you're challenging yourself with one of 23 incline workouts.
Most of the people who purchase the NordicTrack X5 feel that it's a very good investment, and are impressed with the versatility, especially since it's a folding treadmill. The only complaint is that they wish the motor would have been bumped up slightly from the 2.0 HP to perhaps a 2.5 HP since you can really put some stress on the motor at the steeper inclines.
What We Say
Despite a few drawbacks like a just average motor size, the NordicTrack X5 is still the best incline treadmill available. It offers a steep incline, iFit technology and a full 23 programs, all of which mean variety and challenge – essential to a great workout. The iFit compatibility allows you to personalize your workouts even further so that you simply can't get bored on this treadmill.
Show me other NordicTrack Treadmills