The Woodway Bariatric Tread-Ergometer – Used for Exercise and Stress Tests
The Woodway Bariatric Tread-Ergometer is the ultimate medical treadmill for cardio pulmonary exercise testing, clinical rehab programs, and medically supervised exercise for bariatric patients with body weights up to 800 pounds.
The Machine
The system display board is an easy-to-use LCD touch screen. It provides heart rate monitoring as well as accurate measurements and testing repeatability. The display also shows speed, distance, elevation, pulse, time and calorie readout. The Woodway Bariatric Tread-Ergometer has 18 pre-set programs with the ability to create/store up to 200 custom programs.
The list of features includes: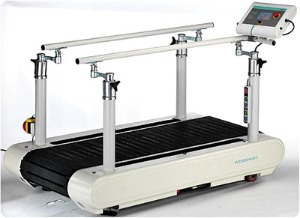 0-12.5 mph Forward Speed
0-5 mph Reverse Speed
-25% to +25% Decline / Incline Range
22" x 68" Walking Area
Slat-Flex™ Rubber Surface
2 HP Continuous Duty Brushless Servo Motor
800 lbs. Maximum User Weight
Dimensions: 39"W x 73"L x 48"H; 515 lbs
Electrical: 220 V, dedicated NEMA 6 – 20
Lifetime Warranty on Frame and Motor; 1 Year Parts and Labor
Woodway Medical and Research Treadmills
The Buzz
Designed specifically for bariatric patients, the Woodway Tread-Ergometer features a number of safety features including medical grade parallel handrails, a magnetic safety lanyard, and a moveable safety stop button.
This treadmill can be used for exercise as well as various types of consistent and repeatable stress tests including cardiovascular and respiratory testing.
The motor on the Woodway Bariatric Tread-Ergometer delivers 2 HP continuous duty and 5 HP peak. The unique slip-free drive system contains 114 precision ball bearings, with a toothed belt and drive wheels for smooth, consistent speeds.
Because the system is frictionless, it maintains speed and power output regardless of the weight of the user on belt. In addition, its durability eliminates maintenance and down time, and offers substantially lower electricity costs in a high use environment compared to standard commercial treadmills.
The slat belt never needs adjustment, tensioning, or lubrication, and lasts an average of 150,000 to 200,000 miles. It is comprised of a 3/8" vulcanized rubber surface and patented SlatFlex™ system that absorbs up to 90% of the force of foot strikes at the point of impact.
This Shore A hardness of 38-43 eliminates the harmful shock to connective tissue, joints, and muscles much more effectively than a traditional treadmill can. The stated user weight capacity is 800 lbs for walking (up to 4 mph) and 500 lbs for running.
What We Say
The Woodway Bariatric Tread-Ergometer has been used in rehabilitation, and for bariatrics and other medical applications, with accurate testing results. It is the smoothest, quietest, and most reliable treadmill-ergometer available.
For cardio specialists, personal trainers, team trainers, or anyone who wants the best treadmill for rehab or fitness evaluation for their clients, the Woodway medical treadmill offers the best solution for your business needs.
Show me other Woodway Treadmills