The Tunturi T20 Treadmill - A Great Choice for Anyone
The Tunturi T20 treadmill, a beginner's model from the well known Finnish Tunturi company is yet another example of how eighty years in the business can teach you a thing or two about making quality exercise equipment.
The Machine
Tunturi treadmills are known for their no-nonsense approach to their design, but that doesn't mean that the Tunturi T20 doesn't have a lot to offer: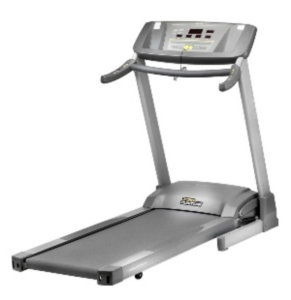 2.5 hp motor
0.5-10 mph
0-12 % incline
19" x 53" running surface
Exercise modes or manual training
6 editable pre-set profiles, 2 user made profiles
Grip pulse heart rate monitor
LED track display
300 lbs user weight
15 year warranty frame and motor (home use)
2 year parts and labor warranty (home use)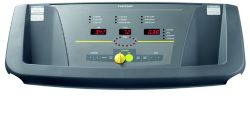 The Buzz
UPDATE: The Tunturi T20 treadmill has been discontinued.  Check out the newest Tunturi treadmill models on the company's site.
What's great about the Tunturi company is that they don't pull punches when it comes to talking about their treadmills. The Tunturi T20 treadmill is advertised as the perfect treadmill for beginners and experts agree that it is. Pros say that the 2.5 hp motor provides just enough power for those new to exercising, without being so slow that a beginner can't advance in their fitness program.
Testers find the Tunturi T20's running surface to be ample for running or walking, while the 6 editable pre-set profiles for training work well to change the workout routine from day to day. Users say they appreciate the ability to create their own profiles to customize a treadmill workout for their needs or goals.
The Tunturi T20's heart rate control and automatic speed control are useful additions for a runner who might have restrictions on their training due to injury or doctor's advice. Beginners say they find these gadgets simple to use and useful in guiding them through a treadmill workout safely.
The handgrip pulse measurement is accurate for expert testers, though fitness pros say it would have been nicer if the optional wireless heart rate measurement could have been included in the standard Tunturi T20 treadmill.
What We Say
With a $1500 price tag, you'd hope that the treadmill was worth every penny – and the Tunturi T20 is. The construction is strong and the features are useful.
While this treadmill is designed for the beginner, it can be a great investment for someone who is at a higher level, but needs a treadmill for bad weather days.
The superior quality makes it an excellent choice for anyone who needs a place to run or walk and doesn't want to keep buying treadmills that wear out. The Tunturi T20 goes the distance, so the price tag is completely reasonable.
Just as with all Tunturi treadmills, the 15 year warranty covers the frame and motor for home use, while the two year parts and labor warranty can be extended to three full years when you register your Tunturi T20 treadmill. However, in keeping with the high quality standards of the Tunturi line, it's unlikely you will ever need to implement the warranty.
Show me other Tunturi Treadmills