Treadmill Noise Reduction: A Blessing for Others in the House
The truth about treadmill noise reduction is that it isn't about you. It's about annoying others that live in the same house or apartment building. Because no matter what "quiet" treadmill you buy, there is bound to be juust enough noise to bother someone.
What to do to Reduce Noise
Your 200-plus lb treadmill can make a lot of noise from a variety of causes, from odd belt squeaks to motor whine. But the main problem is the sound of footfalls when running or walking.
Mechanical noises are easy fixes, but that distinct thump-thump-thump of your feet hitting the deck is the main noise issue we want to address.
There's good news, though. The solution is simple: get a treadmill mat. Not only will it cut the noise level in half, a mat has a number of other advantages. It prevents slippage as well as protects the underside of the treadmill from attracting dirt and dust which will shorten the life of the motor and rollers.
The cost of the mat for treadmill noise reduction is minimal especially when you consider that it also protects the machine from sucking up the dust bunnies. And wouldn't you rather spend $50 on a mat, than several hundred on treadmill repair?
Actually, all home exercise equipment will benefit from a mat placed underneath for the same reason. You'll find that the mats are: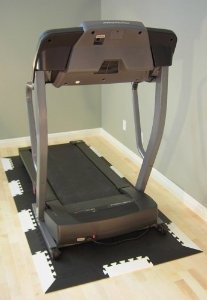 Made of heavy duty vinyl construction
Measure approximately 3 ft wide by 6 ft long
Have a non-slip surface
Fit under most workout equipment
Are durable and inexpensive
Specifically designed for treadmill noise reduction
Get a Treadmill Mat on Sale for Noise Reduction
A mat offers excellent vinyl and hardwood floor protection. If you have a wood floor, you'll want it protected against scuffs and marks, yet still be aesthetically pleasing to look at.
You need a mat even if your home has carpet. While the carpet may reduce some of the noise, the fibers and dust will do more damage to the underside of your treadmill than a bare floor will.
Dust particles like to congregate between the deck and the belt, which will eventually gum up the lubrication, as well as collect in the motor housing, thereby shortening the life of the motor.
Mats Also Reduce Vibration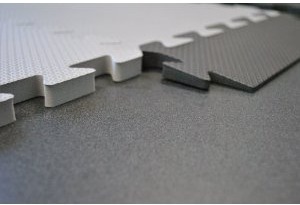 Mats also have an impact-absorbing surface which reduces noise and vibration. This may not be a bother you while on the machine, but if you have a sleeping baby, or plan to run on your treadmill in your apartment bedroom with other tenants sleeping below you, a rubber mat will make everyone's life a lot more livable.
Vibration comes from both the running motor as well as the pounding of your feet on the deck. You don't notice it, but everyone else in the house knows when you're on the treadmill.
As you can see, a treadmill mat is a good investment and it is one of the most important accessories you can purchase for your machine. Treadmill noise reduction and vibration deadening will go a long way to helping to keep peace in the house (or your fellow apartment dwellers), and cut down the risk of costly repairs.
Where to Find Replacement Treadmill Parts