Treadmill Knee Pain: Find a Machine that Offers Comfort & Support
Dealing with treadmill knee pain is an issue many runners have. But is the machine to blame, or does the discomfort result from other factors?
Body Alignment Can Cause Knee Pain
Since the knee is connected to the upper leg muscles, specifically, the quads in the front and the hamstrings in the back, is has been pointed out that muscular imbalances can be a culprit in treadmill knee pain.
The kneecap can be twisted and pulled if weak leg muscles are not able to support it properly since the knee is designed to hinge up and down, and not to twist in different directions.
Another possible indicator of knee pain or discomfort is actually caused by a foot imbalance such as overpronation. If you've had overpronated feet all your life and not had any problems, and have recently taken up running, or increasing the number of miles you run every week, you may have given yourself a treadmill knee injury.
A Look at the Other Usual Suspects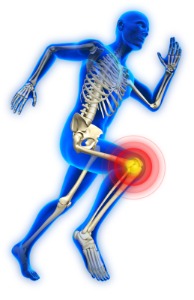 It goes without saying that good shoes providing good shock absorption are a must and should be worn at all times when walking or running, no matter what surface you are on. If you have excessive pronation, you should consider orthotics (medial arch support inserts) to give you greater stability in your ankles and proper alignment for the knees.
Walking and running on hard surfaces such as concrete is highly stressful to the knees and other joints. If you spend a lot of time training outdoors and develop a knee injury, the treadmill (used only occasionally) is obviously not the cause.
Treadmill technology has improved so much in the last 10 years that they are ranked almost as comfortable as a synthetic running track surface. Runner's World offered a comparison chart of how the best types of running surfaces compared to each other on a scale of 1 to 10 with 10 being the best. Grass was the best surface scoring a 9.5. Dirt ranked well at about an 8, with the running track rating a 7 and the treadmill close behind at 6.5.
As for the myth that using the incline has an effect on treadmill knee pain, researchers say there are no studies that show running on a treadmill incline is tougher on the knees, although it does increase stress on the lower back.
How a Treadmill Can Help
One of the ways to alleviate pain or discomfort in the knees is by using a treadmill that offers exceptional cushioning which is part of the shock absorption system.
Look for an advanced system like the Swing Arm Deck System found on Yowza Treadmills. This system features multi-durometer elastomer rings placed between the frame and the running deck to absorb up to 63% more impact than ordinary treadmills.
The Life Fitness Club Series goes one better by combining its FlexDeck® with Lifespring™ shock absorbers, the type used in Corvette suspensions and in 240-ton mining vehicles. Another great system to check out is the Hydra-Suspension™ system of the Smooth 9.35 treadmill, which has 12 adjustment settings to choose from.
Treadmill manufacturers have spent thousands of hours doing research on biomechanics in order to produce the advanced technology now used on treadmill belts, decks, and cushioning systems to alleviate treadmill knee pain and other body stress issues.
All levels of beginning walkers and experienced runners benefit from the new cushioning systems, which strive to provide a balance of comfort and support.
And best of all, these innovations are not just installed on the high-end models; they are available on treadmills in the $1,200 to $2,000 range as well.
More Tips for Treadmill Workouts