The Spirit Z500 Treadmill - Great Blend of Function, User Friendliness and Durability
Used by many fitness enthusiasts, the Spirit Z500 treadmill is another great addition to the Spirit treadmills line.
The Machine
In keeping with the quality of other Spirit treadmills, the Spirit Z500 offers features that last longer than your running shoes will: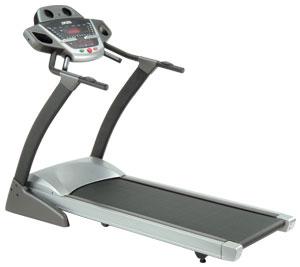 3.0 HP heavy duty motor
10 mph max. speed
15% max. incline
20" x 58" running area
375 lbs. max. user weight
6 window LED display
Hand grip heart rate monitor and telemetric belt
¼ mile track
10 workout programs
CD/MP 3 interface and speaker
Speed and elevation controls built into handlebars
Warranty: Lifetime on frame, 30 yrs. on motor, 5 yrs. parts and electronics, 1 year labor
Convenience is the strong selling point of this treadmill, with easy to use buttons located right on the handlebars for a number of features such as speed and elevation angle. The Spirit Z500's ergonomically designed controls are well within reach.
The Buzz
UPDATE:  The Spirit Z500 treadmill has been discontinued and is no longer available for sale.
Compare Popular Spirit Treadmills at Amazon
Experts who rate treadmills often find that Spirit treadmills are some of the most useful treadmills to exercisers.
Not only do they include advanced heart rate monitoring, the Spirit Z500 treadmill also offers heart rate auto pilot to help with keeping your heart rate steady throughout the workout, depending on your fitness level.
Some users tend to have difficulties with hand grip heart rate monitors, but the Spirit Z500 seems to get the angle just right. Professional users find the heart rate monitor easy to use while running or walking.
Consumers appreciate the treadmill warranty which offers the peace of mind that the Spirit Z500 is built to last – lifetime frame and (nearly lifetime) thirty year motor warranty.
What We Say
This is a stellar addition to the Spirit line. The Spirit Z500 treadmill is a great blend of function, user friendliness and durability with a moderate price tag.
Other similarly priced treadmills are hard pressed to keep up with this model.