The Spirit XT8 Treadmill Offers a Smooth Ride
When you are concerned about value, the Spirit XT8 treadmill might be the best fit for you. This model isn't the most innovative or the most stylish treadmill on the market – but it gives you a sturdy running surface that will last for as many miles as you need.
The Machine
The Spirit XT8 treadmill is a reasonably priced treadmill with plenty to offer any level of exerciser. One of the strong selling points of this treadmill is the smooth and quiet ride that it provides. With oversized rollers – some of the largest on the market – each step is well-cushioned and comfortable.

With ten different workout programs to choose from, the Spirit XT8 gives you a wide range of opportunities to improve your fitness levels and challenge yourself. Features of this treadmill include: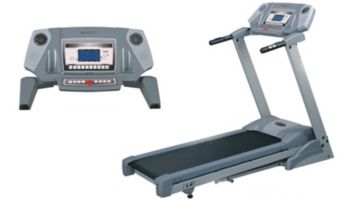 2.0 HP motor
10 mph max. speed
0 - 14% incline
10 workout programs
Built-in cooling fans
Oversized rollers
Four transport wheels
Workout fans
286 lbs. user weight
Lifetime frame warranty
Lifetime motor warranty
3-year parts warranty
1-year labor warranty
The long warranties that come with the Spirit XT8 are a plus for a treadmill in this price range. But it's possible that you might never need to utilize it as the well-designed and solidly constructed Spirit treadmills are generally very reliable.
The Buzz
UPDATE:  The Spirit XT8 treadmill has been discontinued and is no longer available for sale.  You can compare the latest models here to decide which one is right for you.
Experts praise the Spirit XT8's oversized rollers which decrease belt tension and take the load off the treadmill motor. That translates into a cooler running motor and longer lasting bearings. Add to this the lifetime warranty on the treadmill motor and you have a potentially trouble-free treadmill.
Those larger rollers do give you one of the smoothest runs in a treadmill in this price class. And this machine is also, surprisingly, one of the quietest tested.
What We Say
Overall, the Spirit treadmill line offers functional and moderately priced machines of exceptional quality for the price.
If you're looking for a beginner treadmill or you just want a quality, no-nonsense machine without the frills and gadgets that others add on, the Spirit XT8 treadmill is one to consider.