The Spirit XT600 Treadmill - Great Combination of Function, Form, and Style
The Spirit XT600 treadmill is another fine machine from Spirit treadmills, showing their commitment to quality, durability, and effectiveness for the user.
The Machine
Just as with other models from Spirit Fitness, the Spirit XT600 treadmill has many features to offer the user: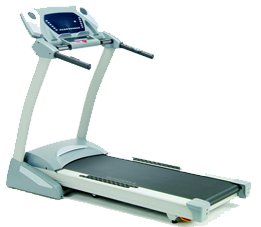 3.5 HP motor
12 mph max. speed
20" x 58" running area
15% max. incline
10 built-in programs, 2 user programs
Wireless chest strap and pulse grip heart rate monitoring included
375 lbs. max. user weight
Tri color display
Cooling fan
Built in speakers
Lifetime warranty on frame and motor
5 year warranty on electronics and parts, 2 years labor
The Buzz
UPDATE:  The Spirit XT600 has been discontinued. You can compare popular Spirit Treadmills at Amazon to find one of the current models that suits your needs.
Because the Spirit XT600 treadmill comes with the Spirit name, most experts agree that this has to be another fine offering in a treadmill. The high powered motor allows everyone from the beginner to the experienced exerciser the ability to start off slowly, but then advance as their fitness increases.
Great Features
The running surface is large enough for any number of running and walking strides, while the speed and incline offer many levels of intensity along with the built in programs for workouts. Trainers like the high user weight capacity, making the Spirit XT600 a treadmill that can be used by just about anybody.
Reliable Heart Rate Monitoring
Gadgets abound on Spirit treadmills, but not in an overwhelming way. Users like the wireless chest strap which allows them to easily monitor their intensity levels without distraction. The XT 600's pulse grip heart rate monitor works well for those who like to hold onto something while they move.
Stable Running Surface
Testers find the overall movement of the treadmill running surface to be stable and even. The updated frame of the Spirit XT600 is obvious as it almost seems that you are running on pavement (but with less impact) when you close your eyes for a moment.
Great Warranty
Consumers appreciate the warranty on the Spirit XT600, which is one of the best in the business, though Spirit's commitment to quality generally does not necessitate treadmill repairs until long into the ownership time.
What We Say
Spirit treadmills are a great combination of function, form, and style. They look great and offer you everything you could want and need from a treadmill.
While the Spirit XT600 treadmill comes with a hefty price tag ($1899) it's well worth the investment. This is a treadmill that not only allows you to start an exercise program, but also allows you to grow in your fitness level over time.
Show me other Spirit Treadmills