The Smooth EVO SX4 Treadmill – An Ultra-Compact Affordable Model
If you are looking for a no-fuss walking machine, the Smooth EVO SX4 treadmill might just be the answer. This is one of the smallest machines we've ever seen, yet it performs surprisingly well.
Smooth Fitness, known for its great mid-priced treadmills, has created this compact model specifically for customers who are extremely restricted in regards to room space to fold out a treadmill as well as store it away.
The Machine
The Smooth EVO SX4 has a small console yet the backlit display is still large enough to show the 2.5" X 5" LCD readout. There aren't a lot of programs, and the treadmill incline is only two-position, but those shouldn't turn you off to this dandy little machine.

The list of features of the Smooth EVO SX4 includes: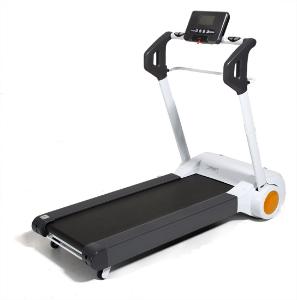 2.0 CHP Motor
0-8.8 MPH Speed
Manual incline: flat, 7%
5 levels of intensity
7 Programs (6 Pre-set and manual)
16" x 50" Walking Area
Textured Whisper Weave™ low-noise belt
Hand Grip Heart Rate Monitor
Adjustable Console Angle
Flex-Deck frame cushioning system
250 lbs. max. User Weight
Patented fold-down/stand-up design
Transport Wheels
Slim footprint: 11" x 29" (folded), 29" x 61" (open)
Lifetime frame warranty, 10 years motor; 3 years parts/electronics; 2 years labor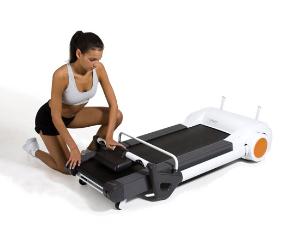 The Buzz
UPDATE:  The Smooth EVO SX4 has been discontinued. Check out our list of best treadmills under $1000 for a comparable model.

How did Smooth manage to make such a small 155-lb machine feel so steady? Well, they started with a welded 11-gauge steel frame; then they installed non-slip 2" rollers which help to extend the life of the belt, deck and roller bearings; and then they installed a cool-running 2.0 CHP motor. Experts are high on anything this company does, and the Smooth EVO SX4 treadmill lives up to the reputation.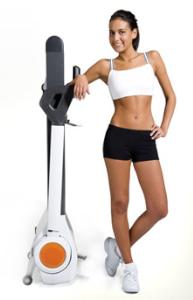 The ultra-compact unit is quiet and comfortable, and it offers a solid workout for walkers who need an affordable treadmill -- as well as one they can easily maneuver and store away.
Owners who've taken the time to pen treadmill reviews all comment that they received their unit fully assembled; they took it right out of the box and stepped on the belt!
What We Say
As the budget-priced ($799) entry model, the Smooth EVO SX4 replaces the discontinued Smooth 4.25 compact folding treadmill. (A model we also gave a rave review to.)
This unit has a fantastic warranty, great cushioning on the deck, a decent size motor and large rollers to support a multi-user household of walkers, a compact footprint, and it comes with Free Shipping.
If you are restricted in both space and budget, the Smooth EVO SX4 treadmill is an excellent entry-level machine for walkers.
Show me other Smooth Treadmills