The
Smooth EVO FX40HR Treadmill

- Folding Unit Loaded with Features

The Smooth EVO FX40HR treadmill is a model you can actually walk into a box store and give it a try out. The company sells their Smooth treadmills directly to consumers online only but they offer the EVO name brand at brick-and-mortar retail stores.

But by making your purchase of one of these folding units online, you'll save hundreds of dollars by cutting out the middleman.
The Machine
The Smooth EVO FX40HR treadmill has 8 preset programs including target distance, target time, target calories, interval speed and include, weight loss, 5K run, and heart rate control.
You can wave your hand over the Motion Control beam on the console to increase or decrease speed without breaking stride. Features of the Smooth EVO FX40HR include: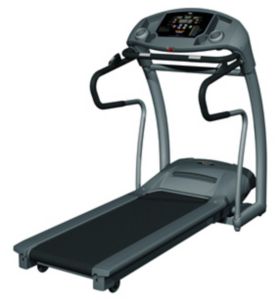 3.0 HP motor
10 mph max. speed
15 incline levels
20" x 54" running area
8 workout programs
9 storable user profiles
350 lbs. max. user weight
4-Ply Whisper Weave™ low-noise belt
Patented Hands-Free Motion Control™
Hand Grip Pulse Sensors and Polar® Wireless Heart Rate Sensor
Soft-drop folding design
Unit Weight/Dimensions - 245 lbs; 71"L x 31"W x 65"H
Lifetime warranty on frame and motor
5 year warranty on parts, 1 year on labor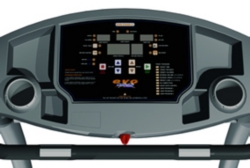 The Buzz
UPDATE:  The Smooth EVO FX40HR has been discontinued. Check out our list of best treadmills under $1000 for a comparable model.
The Smooth EVO FX40HR treadmill comes with the same patented Swing Arm™ Shock Absorption System found on models costing twice as much.
This system is created by building the deck and frame suspended on two pivots to produce a smooth running experience that cushions every stride and lessens the jolt on knees, ankles, hips and back.
The EVO FX40HR's heavy frame and quality construction, combined with the Swing Arm system results in the same smooth, shake-free running you look for in health club treadmills. Experts can't put it more simply: Smooth offers the best roller/bearing design in the business and have generously included it in even their mid-range priced units such as this folding treadmill.
Listen to owners of this machine and they'll tell you that it feels sturdy with no wobble, easily folds up and stores away, and comes loaded with features (such as the Heart Rate monitor) which are usually not found on a folding unit.
Some treadmills are noisy, and foldable models are even noisier, but the Smooth EVO FX40 comes with the same quiet belt, large rollers, and shock absorption system as the expensive models, allowing it to run virtually noise-free.
What We Say
The foldable machine is listed at an MSRP of $2,199 but for a sale price of $1,499 it's too inviting to be ignored.
As for making the final purchase decision, it's going to be a tough call finding any treadmill that offers a better ride and quality than the Smooth EVO FX40HR treadmill. Recommended.
Show me other Smooth Treadmills