Smooth 7.1 HR Pro Treadmill Folds at Touch of a Button
The most impressive feature of the Smooth 7.1 HR Pro Treadmill is the power folding mechanism. It allows you to fold up and lower the deck with just a touch of a button, eliminating any chance of strain or injury to you.
The Machine
The Smooth 7.1 HR Pro treadmill is very similar to their 6.25 model with the addition of the power fold and an included wireless heart rate monitor. It's also a heavier treadmill than most folding models, which gives it considerable stability (280 pounds of it, actually). Other features include: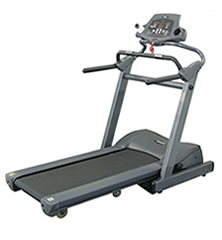 2.75 HP continuous duty motor
20" x 54" running deck
8 pre-set programs
9 user profiles
Phenolic deck
Wireless HR monitor
Impression Shock Absorption
15% maximum incline
LED display console
Lifetime parts & motor; 1 yr. labor warranty

Smooth Fitness backs this power folding treadmill with the best warranty in the industry – lifetime coverage of all parts, including the deck, belt and folding mechanism.
The Buzz
UPDATE:  The Smooth 7.1HR has been discontinued. Check out their new treadmill model lineup for comparable machines.
Many fitness professionals feel that if you're looking for a power folding treadmill, the Smooth 7.1 HR Pro is a good fit.
It's got more stability than others due to the weight and the LED console has recently been upgraded to bring it more in line with other treadmills in the $1,700-$2,000 range (look for sales on this model to get the lower price).
Most people who buy this model are very happy with it. The one complaint is that although it is a folding treadmill, the Smooth 7.1 HR Pro treadmill takes up a lot of space, even when folded up. It's also very difficult to move because of its weight.
What We Say
There is always give and take when you have features like a power folding treadmill. The mechanism makes the Smooth 7.1 HR Pro a great option for exercisers who simply can't fold up a treadmill themselves due to injuries or back problems, but the sacrifice is the size of the footprint. This still takes up a fair amount of floor space.
When you walk or jog on a Smooth 7.1 HR Pro treadmill, you'll like the feel of it. You get a soft landing when you down-step and a nice, firm push-off. It's also extremely stable due to the base and deck frames being separate units.
If you work out most days, this power folding model is an excellent choice for all but the most serious runners (who may want to consider the Smooth 9.25 treadmill).
Show me other Smooth Treadmills