The Smooth 6.45M Treadmill -- an Upgrade of the 6.45 Model
Among mid-range machines, the Smooth 6.45M treadmill earns its praise in many reviews because of its design, great warranty, strong motor, quality components such as the advanced Swing Arm™ Shock Absorption system, and the attractive price.
The Machine
The Smooth 6.45M treadmill retails for $2495 but can usually be found on sale for around $1699. It's the same model as the 6.45 ($1599) but comes with a top quality sound system to plug in your iPod or mp3 player. It even has a volume control on the dash and built in speakers. The specs of the Smooth 6.45M include:

3.0 CHP motor
0.5-12 mph speed
0-15% incline
20" x 60" treadbelt
8 workout programs; 3 user defined
9 storable user profiles
Hand grip pulse heart rate monitor
Heart rate control
Wireless chest strap (optional)
Deluxe sound system for mp3 / iPod
Transport wheels
2 water bottle holders
350 lbs. max. user weight
Dual-stage folding mechanism
Lifetime warranty on frame and motor; 5 years parts and 1 year in-home service
The Buzz
UPDATE:  The Smooth 6.45M model has been discontinued. Check out our top picks under $1000 for comparable machines.
The Smooth 6.45M treadmill comes with an optional wireless chest strap which you should include in your purchase at check-out. The reason for this is that wearing a heart rate monitor during each workout will give you optimum results by kicking your exercise regime up to the fat burning zone while you view the output on your display console.
Other than that, trainers judge a machine on sturdiness, motor, warranty, and quality components. The Smooth 6.45M folding treadmill scores well in all categories.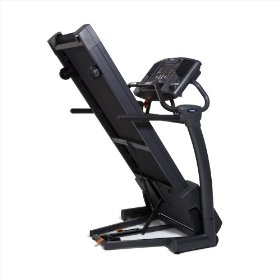 Since the motor is very quiet, there's no problem hearing your tunes playing on the console's speakers. Consumers come to appreciate the Smooth 6.45M's Swing Arm™ Shock Absorption, which means less stress on your ankles, knees and hips, and no jarring or vibration of the console when you power up and start running.
The Smooth 6.45M is a tough treadmill that holds up to the pounding punishment of a heavy walker or a runner which means there's no wiggle or wobble of the upper frame while you're reading and doing your workout.
What We Say
The Smooth 6.45M is a better-looking unit over the 5.45 model ($1497 MSRP) which has an enormous console. The treadmill looks and feels more like a compact club model, with a beautiful display of its interactive system.
This may be a bit too much machine for walkers as the 3.0 HP continuous duty motor is large and designed for heavy use. But you can take advantage of the heavy motor to improve your speed and distance while listening to tunes and trying out the various programs.
You'll get fit much faster and you won't be bored while doing it. If you can find the Smooth 6.45M treadmill at a price under $1700, it's a good buy.
Show me other Smooth Treadmills