The Schwinn 870 - Good Features But Poor Warranty
The Schwinn 870 is certainly a step up from the base 830, but with the same subpar warranty it still doesn't measure up to the competition.  It offers a nice array of features and plenty of workouts, but there may be better options out there for you.

The Machine
The Schwinn 870 has a DualTrack blue backlit display with 15 different workout metrics as well as 4 user profiles.  It features SoftDrop folding capability for easy storage after your workout.
Let's take a closer look at the important specs...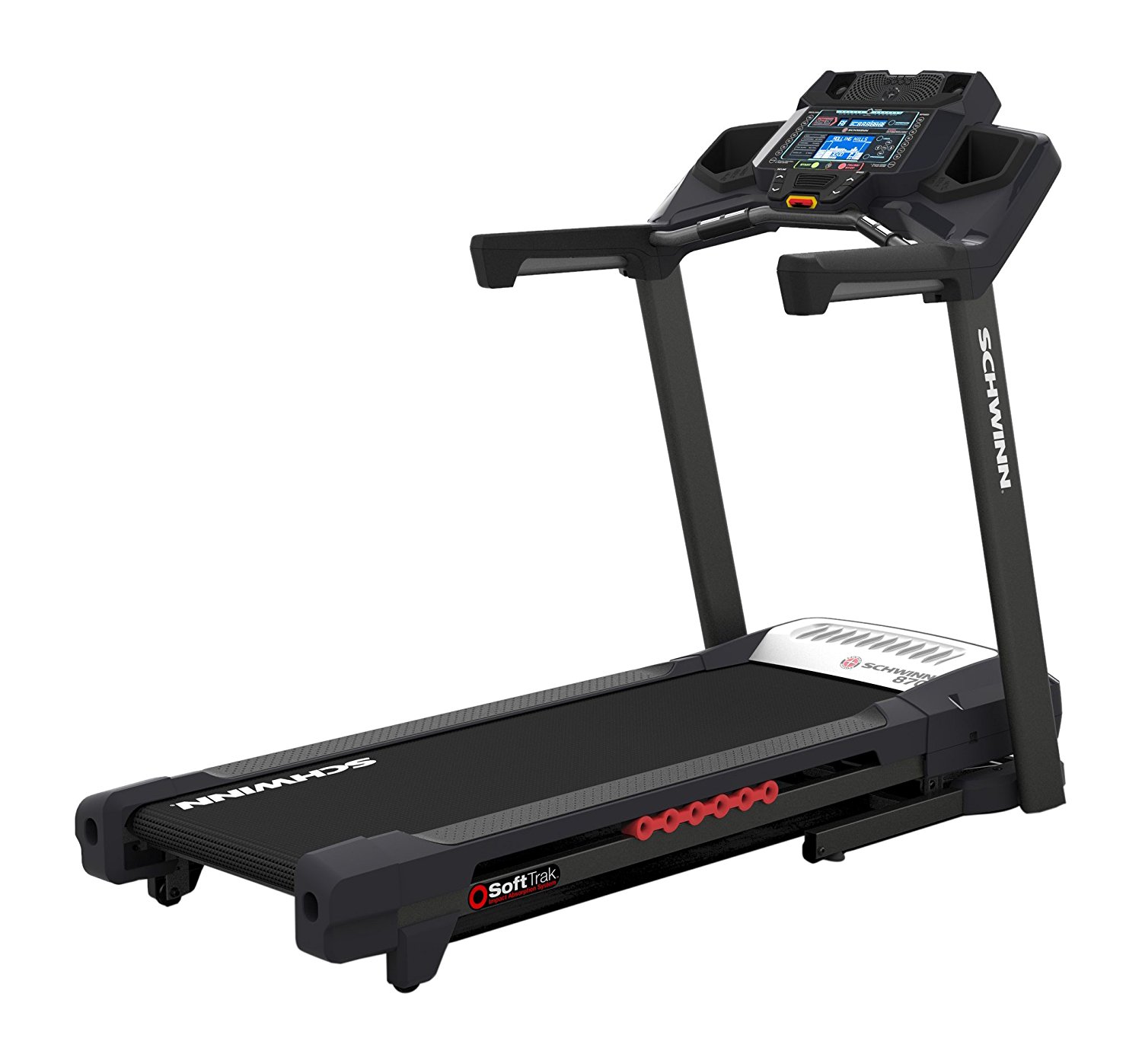 3.0 CHP Motor
0-12 mph Speed
0 – 15% Incline
20" x 60" Running Area
26 Workout Programs
Grip/wireless heart rate sensor
Softrak™ suspension deck
Transport Wheels
Bluetooth workout tracking
Speaker system/Fan
300-lb. User Capacity
Warranty: 10 yrs frame/motor, 2 yrs mech/elec, 1 year labor
Check out the 870 treadmill from Schwinn at special sale price
The Buzz
The Schwinn 870 has been around for a while, and the reviews have been generally mixed.  There are those who simply love it, and there are others who warn you not to buy it.  So it's really a mixed bag.
The 870 is a nice step up from the base 830 model, with enhancements in almost all areas.  
It has 26 built in workouts, a strong yet quiet 3.0 CHP motor, up to 15% incline and a 20" x 60" deck.
It also has a thick belt with 6 cell SoftTrak cushioning, and gives you a free wireless chest strap for more accurate heart rate readings.  
You can track your workouts on the Schwinn 870 treadmill via Bluetooth with the Schwinn Trainer 2 and Run Social App, and then sync them with various fitness apps top keep on top of your progress.  
You also get a Schwinn Fitness Score based on your weight and age that measures your heart rate and power output, which is a nice little way of seeing where you are.
Cushioning is very good and impact-reducing, you get a nice sound system, easy folding, a 3 speed fan, water bottle holder, USB charging and 2 water bottles.
So what's not to like you ask?  Well, the only real issue we have with the Schwinn 870, and other models for that matter, is the fact that the warranty is so poor.  You only get 10 years on the frame and drive motor, which is definitely subpar even for a lower priced treadmill.
If we compare it to a similarly priced model from ProForm, the Power 995i, we can see how it doesn't hold up.  That model has iFit technology, 30 workouts, a 350 lb. max weight limit and a lifetime frame and motor warranty.  That's a big difference.
So although the 870 does have a lot of nice touches, we just can't get past that poor warranty.  Plus, they only have two models left and they've been relatively the same for years. Doesn't bode well for the line.
How Does the 870 Compare to the Other Schwinn Treadmills?
While there used to be a few Schwinn treadmills to choose from, now there are only two:  the base 830 model and the up-level 870.
The 870 definitely outshines the 830 in most categories...perhaps the only thing better about the 830 is the price...but even that is only a couple of hundred dollars less.
Let's take a look at the two machines side by side so you can see what we are talking about here...
Schwinn 830
The base model does give you a lot of good stuff.  You get 22 workout programs, contact and wireless heart rate monitoring, a 2.75 CHP motor, 12% incline, basic display, 20" x 55" deck, SoftTrak cushioning and a 300 lb. max weight capacity.
Schwinn 870
As you've read above, the 870 gives you more in all of the areas that count.  You get 4 more workouts, a stronger 3.0 CHP motor, 3 additional degrees of inline for a total of 15%, a more advanced display, a larger 20" x 60" deck, free wireless chest strap and Bluetooth workout tracking and sharing.
So as you can see the Schwinn 870 is a much better machine, and if you are more of a runner than a walker, and plan to really use the treadmill on a regular basis, the 870 is definitely the better choice.
You might also want to look at the treadmills from their sister company, Nautilus.  Their lineup includes the T614, T616 and T618.
The T614 is nearly identical to the Schwinn 830; the T616 is nearly identical to the Schwinn 870; the top of the line Nautilus T618 is more advanced than all of them, with a max weight capacity of 350 lbs. and a stronger warranty of 15 years on the frame and motor instead of 10 years on all of the other Schwinn and Nautilus treadmills.
What We Say About the Schwinn 870
We like the improvements on the 870, especially compared to the base 830 model.  But the fact remains there are much better choices in the $800-$1000 price category from ProForm, Horizon, NordicTrack and others.
You're much better off with one of those models.  You can check out our Best Buys in the $500 to $1000 price range on this page to see some better choices.
If you are set on a Schwinn treadmill, we definitely recommend opting for the extended warranty just to give yourself peace of mind.  It's usually just an additional $50-$100 and well worth it.  The warranty is really the only downside to the Schwinn 870 and the rest of the Schwinn/Nautilus lineup.
Get more info and special sale pricing on this treadmill here