The Quantum Fitness Q-3.1 ES Treadmill – Rated 'Good Buy'
The Quantum Fitness Q-3.1 ES treadmill is a high quality machine that offers a unique advantage to walkers or those needing a home machine for rehabilitation work. With a low rpm motor and a deck that supports up to 375 lbs, this is an excellent treadmill for anyone at any level of fitness.
The Machine
Users of the Quantum Fitness Q-3.1 ES treadmill can track their progress on the console's huge LED displays which show heart rate, speed, incline, time, calorie, distance, pace, cal / hour, and lap. In its 16 programs, you'll find workouts for Weight Loss and Cardio HRC, Quick Start, Calorie Goal, Distance Goal, Speed Interval, Hill Interval, Summit, 5K, 18 Holes, Fitness Test, Custom, and more.
The other features and specs on the Quantum Q-3.1 ES treadmill include: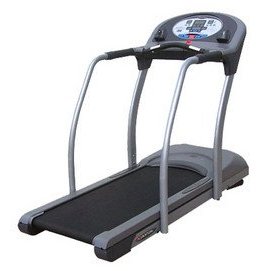 3.0 HP Continuous Duty Motor
0.5-10 mph
0-15% Incline
22" x 54" belt
16 Programs
Telemetric System (Strap included)/Contact Heart Rate
375 lbs. max. user weight
Dual zone suspension system
Available with or without handrails
Warranty – Lifetime frame, 10 yrs motor, 3 yrs parts, 1 yr labor
The Buzz
UPDATE:  Quantum Fitness is no longer making treadmills and they are not available for sale.  For similar quality take a look at TRUE treadmills, with numerous Best Buy picks in the category.
With a 22" x 54" walking surface, the Quantum Fitness Q-3.1 ES is designed for users who need more room side to side rather than for long striding; for example, runners who should buy a treadmill with a 60" belt.
The deck has impact absorbing dual zone suspension, and the hefty 2.5" OD Rollers are precision machined and contain industrial sealed bearings. The unit also includes wide grip handrails for additional support, as well as a very low floor height for easy mounting and dismounting.
Quantum Fitness treadmills are used in health clubs, hotel chains, and by pro athletes which speaks volumes about how well these machines deliver performance in a demanding environment.
With its rehab-oriented features, the Q-3.1 ES provides a secure exercise experience for the less-than-fit user as well as anyone who needs a machine to challenge them in a cardio workout. Customers writing in treadmill reviews have given good remarks about their machines and are extremely satisfied.
What We Say
The Quantum Fitness Q-3.1 ES treadmill is a solid, quiet HRC (heart rate control) machine with a sturdy frame to support users up to 375 pounds, and it offers a large easy-to-use display.
It has an MSRP of $2,599 but we've seen it on sale for as low as $2,299. Since it also comes with free shipping and the HRC chest strap is included, the quality and value of this treadmill makes it a Good Buy.
Show me other Quantum Fitness Treadmills