Proform Crosswalk 480 Treadmill User Comments
by Mary
(Baltimore, MD)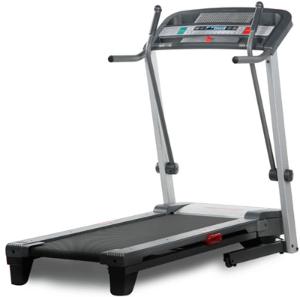 I recently purchased the Proform Crosswalk 480 treadmill. I had never used a treadmill before so I really did not know what to look for in a machine. I did speak to someone at the Proform company but ended up going to Sears. I went alone, which was a mistake. I had planned on buying the Proform Crosswalk 580, but the salesman said I didn't need it if I wasn't going to run. I should have stuck with my first choice.

My husband, age 60, and myself, age 54, wanted a treadmill for aerobic exercise since we both have arthritis. I am 5'2" and 165 lbs. so I am alright on the 480. However, my husband is 6'4" and 225 lbs. which makes a difference on the deck.

My son brought it home for me in his truck. When it was put together, both rear feet were cracked-maybe the boxes were stacked too high. I walked on it alright, but when my husband walked on it, there was a squeak around the middle of the deck. It also does not seem wide enough for his feet nor long enough for his stride. The Proform Crosswalk 480 only has 7 years on the motor, compared to the 580, which has 25 years. One more thing - after using it twice (Sears salesman said it was alright to use the treadmill until the new rear feet arrive and I can change them), the belt is curling up slightly on the left.

I feel that stores selling these machines should have salespeople who are informed about the equipment. I hope to resolve this problem and get many good years of workouts on this ProForm treadmill.

I wish I had seen this website before buying the treadmill. As a novice on exercise equipment (I usually walk for exercise) I was really in the dark. Any advice on how to get the ProForm Crosswalk 480 Treadmill fixed for good?
Join in and write your own page! It's easy to do. How? Simply click here to return to Treadmill Consumer Reviews.
Proform 730 Treadmill Problems
by Phil Parker
(Vancouver, BC, Canada)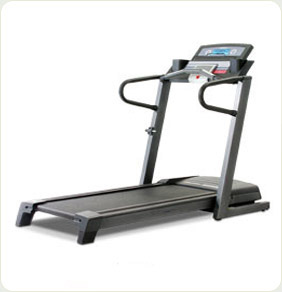 Recent e-mail traffic between myself and Janick from ICON Canada Customer Service, with regards to the ProForm 730 treadmill. Read and be warned.

Janick:

Please see attached e-mail from - as it turns out - you. In response to this, I had Coast Fitness come out to do a service call on Aug 1, 2008. They recommended having the front roller, drive belt and idler pulley of the Proform 730 treadmill replaced. They did that work in September '08. I had them replace the isolators at that time as well, as I noticed they were split.

The isolators failed again and I had Coast Fitness back to replace them again on December 29, 2008. Their work order notes no charge for the Isolators with the notation "(warranty)".

The rear roller brackets on the ProForm 730 also failed catastrophically releasing the rear roller violently and nearly throwing me off the back of the machine. Icon Canada shipped me new brackets (I had to pay for them) which I installed myself. Since then the isolators have failed again and I had your department ship me 4 new ones.

Last week I installed the new isolators and during my first run on the machine the bed cracked. The isolators seemed spongy and I assumed they were just splitting again.

So in summary: Isolators replaced 3 times, rear roller brackets replaced, front roller/drive belt/idler pulley all replaced, 1 general service call (3 service calls total) and now the treadmill deck is broken. The current isolators will also likely have to be replaced as they have insufficient stiffness (spongy) and caused the deck of the ProForm 730 to flex and break.

Please give this matter your direct attention. I appreciate your efforts, but I assume you can understand my frustration.

ICON Fitness Response: (Notice the horrible English!)

Good day Philip Parker,

You asked me to help you on a unit that has been purchased second hand.

If you look the warranty information that follows:

This is the inforamtion you will have in your book at the last page. Second paragraphe start with : this warranty exttends only to the original purchaser.

So I'm sorry but I could not halp you at all.

If you have any other questions, please feel free to email me. It will be my pleasure to assist you.

Yours sincerely,

Janick

Icon Canada Inc.
Service à la clientèle/
Customerservice
Tel: 1(888)936-4266
Fax: 1(888) 936-8188
900 de l'industrie
Saint-Jérôme, QC
J7Y 4B8


I got this machine as a return at Costco. I received all the product registration info, manuals and warranty information at the time.

My latest attempt at getting this resolved:

Janick:

I understood from the outset that this was not a warranty claim but rather a product suitability concern. I have for some time now at my own expense replaced parts on the Proform 730 treadmill as they have failed, something they do with startling frquency. That being said the number of failures is staggering given the age of the machine - less than 1 year. The nature of the failures is unacceptable - some causing dangerous conditions.

The most pronounced issue is with respect to the isolators which routinely and repeatedly fail. The isolators in general are unsound, splitting along the bond line between the two halfs after only a few uses. This is not a wear and tear issue but rather a defective product. This last bach of isolators recently shipped to me was unfit for use and lacked sufficient stiffness. The bed of the unit deflected excessively due to these isolators and led to the bed cracking.

While the Proform 730 treadmill itself is not under warranty the isolators shipped to me just over a week ago should have been the correct type and fit for their intended purpose. They clearly were not. This defective product led to damage to my machine and I do not intend to bear the brunt of this myself.

As the Limited Warranty you quote below notes "parts and labour are warranted for 90 days after the date of purchase." I am the original purchaser of these isloators, they were purchased less than 90 days ago and I want them replaced. I also want the damage done to my Proform 730 treadmill by these defective isolators repaired.

I think I've been quite good about all this paying for parts and service routinely over the last year. New rear roller brackets, new isolators, new front roller ... the list goes on plus shipping and taxes not to mention my time away from work to either sit on hold on the phone or rush home to let Coast Fitness in. This time I think ICON and ProForm need to be more equitable partners in this problem.

If you supply a new bed and new isolators for the Proform 730 treadmill I will supply the labour to install them. Please refer this matter to the correct persons within your organization and I await your response.

Yours truly,

Philip Parker, P. Eng. MRICS


Click here to read or post comments
Join in and write your own page! It's easy to do. How? Simply click here to return to Treadmill Consumer Reviews.
ProForm 680 LT Treadmill User Review
by Alan
(Colorado Springs, CO)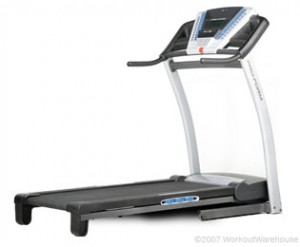 DONT BUY THIS TREADMILL!!!

We bought the ProForm 680 LT treadmill to supplement our workouts during the winter season in Colorado Springs, especially when there is ice on the roads/trails. Within a month of purchase the belt started to slide to the right and the motor started to drag. I followed directions to realign the belt, but the motor still skips. Sort of dangerous when you are running a 7-8 minute mile pace.

We have called ProForm's helpline (be prepared to be on hold for 30-60 min) and they told us what the problem might be and they would have a tech call us in 3-5 days. At exactly 5 days we receive a call from a technician who says he can come out the next day to our home, but cannot tell us at what time. I don't know too many people who can block out an entire day without having to be at work or other appointments, so we decided maybe next week would work better. Now he tells us he is not sure what day or time he can come out next week, but will give us a call. Great. What kind of customer service is this?

Now our ProForm 680 LT treadmill is nothing but a speaker system for our iPod and the sound isn't so great to start with. I sincerely hope ProForm's other treadmills are better and that other people experience better service.

Join in and write your own page! It's easy to do. How? Simply click here to return to Treadmill Consumer Reviews.
ProForm iFit Treadmill
by OB
(CA)
I purchased a ProForm iFit treadmill from the HSN and I will never do so again. I paid 600 dollars plus another 150 dollars for assembly. The equipment lasted less than a month. It began expelling some black powdery substance. I could not return it to HSN because between shipment and the time it took someone from ProForm to come out to my home to assemble the product, the thirty day grace period with HSN had elapsed. This treadmill is a serious joke. Since then, I won't shop HSN either.
Click here to read or post comments
Join in and write your own page! It's easy to do. How? Simply click here to return to Treadmill Consumer Reviews.