The Precor TRM 223 is a Commercial-Grade Treadmill
The Precor TRM 223 is the mid-range model in the Energy Series, joining the entry level 211 and the upper end 243.  All three treadmills are commercial-grade, durable, and designed to provide the most comfortable, impact-free motion to minimize joint and knee pain.
The Machine
The TRM 243 features a fully welded steel frame and a large, high contrast LCD display with 2 user IDs. It offers 13 different workout metrics including calories, heart rate, time, distance, pace, speed and more.
Let's take a look at some of the best features...
3.0 HP Continuous Duty Motor
0.5-12 mph speed
0 to 15% Incline
20" x 57" running area
9 Preset Workouts
Energy Stride Technology
SmartRate® Heart Rate monitoring
350 lbs. max. user weight
Wt / Dimensions: 238 lbs / 81" x 33" x 59"
Warranty: Lifetime on frame, 5 years parts, 1 year labor
See the TRM 223 on sale now at the Precor online store!
The Buzz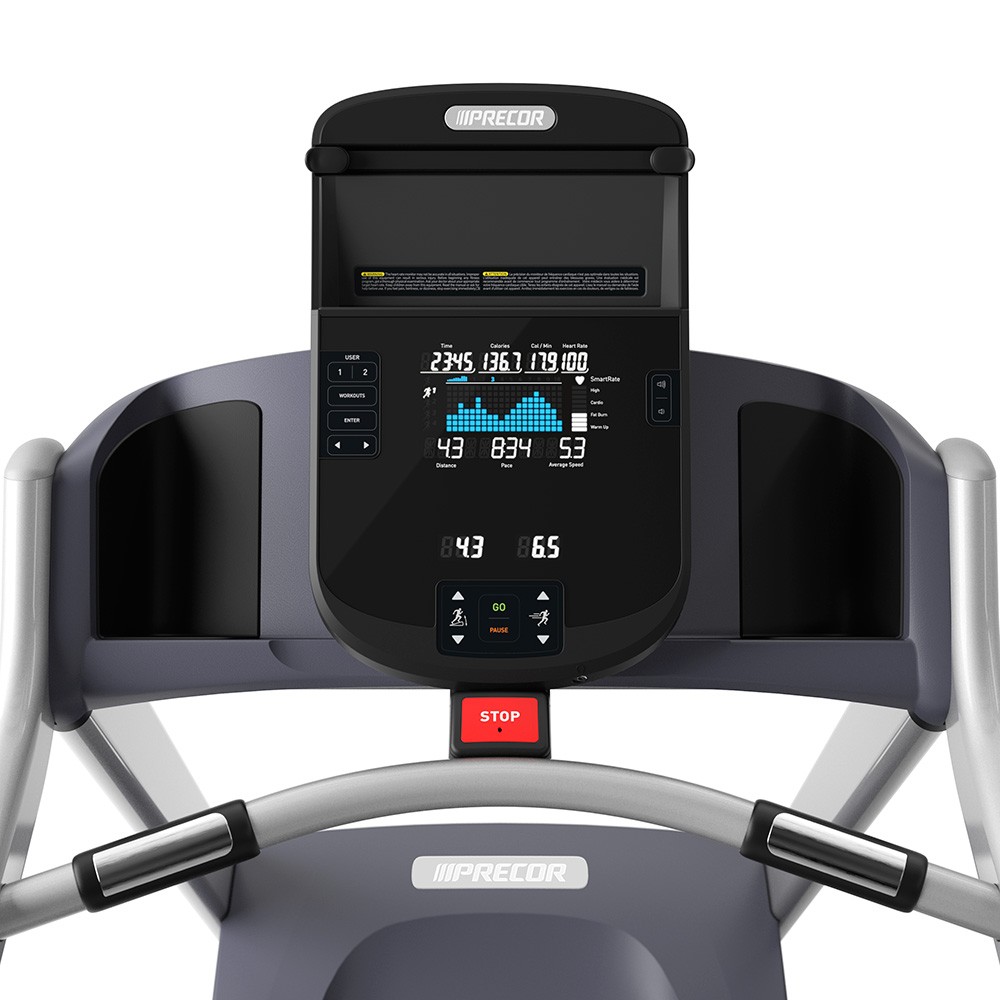 The Precor TRM 243 gets very good reviews from the experts, as do most of the company's treadmills, simply because they are very well constructed and designed.
Precor is one of the originators in the industry, and the technology and science that goes into the design of their cardio equipped is simply unmatched.
As we mentioned the 223 is the middle model in the series, a nice step up from the base TRM 211 with more preset workouts, longer hand rails, more advanced console, tablet holder and wireless heart rate capability.
For starters, you get Energy Stride technology which provides the right amount of cushioning and stability to ensure minimal impact on your knees and joints.
There are 9 built in workouts to choose from, up from 6 on the base model, including interval training, cross country, weight loss, hill climb, aerobic and more.
You can monitor your heart rate using the built in grips or wirelessly with a chest strap for more accuracy.  (Note that the chest strap is not included on any of the Energy Series models, but it is on the up-level TRM 425 treadmill.)
You get speeds up to 12 mph which is enough for all but the most serious of runners and up to 15% incline which helps you target different muscle groups.
You have a strong, yet quiet 3.0HP motor, water bottle and accessory pockets, a tablet holder with SmartGrip and a solid warranty of lifetime on the frames and weldments.
Anything we didn't like on the Precor TRM 223?  As with most of their treadmills, the running surface could be a bit longer for more comfort.  At only 57" long, it might be a little tight for larger/taller users.  If that is you, look at the 811 or 835 models for 60" long decks.
Also, it would be nice to have Preva workout tracking like some of the other machines have, including the step-up TRM 243 treadmill.
That said, you really can't go wrong with any of the Energy Series or higher level Precor treadmills.  These are high-end machines that are built to last, providing years of enjoyment and helping users of all fitness levels reach their goals.
What We Say About the TRM 223
The Precor TRM 223 is a solid treadmill with incline capability, great cushioning, a nice array of workouts and solid construction.
If tracking your workouts is important to you, look at the TRM 243, which also has more workouts, a nicer display, personalized workout suggestions and additional capabilities.
If you want decline capability as well, then bump up to the Precision or top of the line Experience Series.
Get more info and special sale pricing on this treadmill here!