The Precor 9.31 Treadmill – Reliable for Daily Workouts
The Precor 9.31 treadmill is a premium home model that is pure pleasure for your daily runs.
The Machine
The distinctive two-color LCD backlit display of the Precor 9.31 treadmill shows readouts for time, speed, incline, calories, heart rate, distance, step count, and more. The console offers Password Protection, quick key function for start and programs, and Precor's patented SmartRate® Heart Rate monitoring system.
The features of the Precor 9.31 include: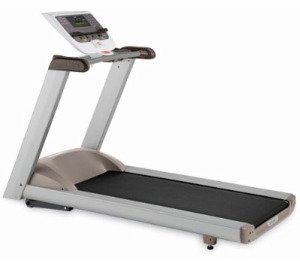 3.0 HP Continuous Duty Motor
0.5-12 mph
0-15% Incline
22" x 56" running area
8 Programs
Integrated Footplate Technology
Ground Effects Impact® Control
SmartRate® Heart Rate monitoring
Chest strap included
350 lbs. user capacity
Wt / Dimensions: 335 lbs / 79" x 34" x 56"
Warranty: lifetime on frame, 10 years parts, 1 year labor
The Buzz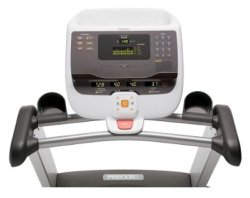 UPDATE: The Precor 9.31 model treadmill has been discontinued and is no longer being produced.  Check out the latest Precor treadmills at the company store to find a comparable model on sale.
Also, make sure you take a look at the selection here as they often have really great deals on new and old models.
If you are familiar with Precor EFX ellipticals and cycles, you'll recognize the same layout in their treadmill consoles. Selection keys are labeled so that there is no guesswork to choosing a program, speed, or incline level, or putting in your age and weight data.
The Precor 9.31 treadmill has all the advanced comfort features of the 9.35 model, including the IFT or Integrated Foot Plant Technology (it adjusts the belt speed to your foot speed), and the GFX or Ground Effects Impact control suspension system under the treadmill deck which cushions impact and stabilizes lateral movement of the feet.
The Precor 9.31 has a 3.0 hp motor, a reversible multi-ply belt, and a low-noise steel-crowned drive to keep the belt centered and running smoothly on the quality rollers.
Generally, you will find positive treadmill reviews on the Precor 9.31. It does have some unusual quirks, like not offering a User Memory ID feature so you don't have to enter your user weight/age every time you workout. 
For almost $4,000, you expect those types of things on a high-end model. It's a small issue but for daily users, it is a noticeable omission.
What We Say
Precor has had to increase prices on their products significantly the past three years, while competitors have not only held steady, but in some cases have lowered prices just to stay in business.
When you compare the Precor 9.31 in head-to-head match-ups with the competition at this price level, that's where it seems to lack in value. Consider the features and components found on the Lifespan Pro5 treadmill for around $3,299, and you'll see that the Precor 9.31 is overpriced at $3,999.
If you really want a reliable Precor for your home gym but can do with fewer programs and no IFT or GFX technology, check out the 9.23 model and save yourself more than $1500 over the Precor 9.31 treadmill.
Show me other Precor Treadmills