The Livestrong LS7.9T Treadmill – A Lot of Value for the Money
The entry-level Livestrong LS7.9T treadmill at $799 is the budget model of the four new Livestrong machines that debuted in December 2009.
The Machine
The LED console shows incline, time, distance, speed, and calories/heart rate. The nine workout programs on the Livestrong LS7.9T treadmill allow the user to choose from Manual, Weight Loss, Power Walk, Walk/Run, and Incline. The Livetrack™ Fitness Journal is a new software, integrated with the console, to allow it to track your lifetime fitness progress as it records each session.

The specs on the Livestrong LS7.9T include: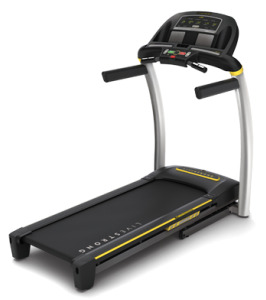 2.5 CHP Motor
0-12 mph
0% - 12% incline range
20" x 55" running area
9 plus Livetrack™ Fitness Journal
3-zone MaxComfort™ System cushioning
Contact HR grips
Speakers with MP3/iPod® compatibility
High quality blower fan
Transport wheels
Folding design
325-lb. User Capacity
Unit Weight/Dimensions — 183 lbs; 70" x W: 36" x H: 60"
Warranty: Lifetime Frame & Motor, 2 yrs Parts, 1 yr in-home Labor
The Buzz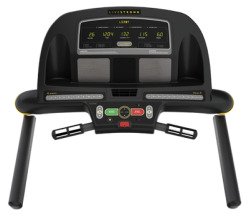 UPDATE:  Livestrong Fitness is out of business, and the company is no longer making exercise equipment.  Check out NordicTrack as well as Johnson Health Tech's other popular brands, Horizon and Vision for comparable treadmills.
There are a couple of cool features on the Livestrong LS7.9T to note: the 2.5 CHP treadmill motor and 12% elevation motor have lifetime warranties, and the cushioning system and Livetrack™ Fitness Journal are the same features that come on the more expensive Livestrong models.
The only drawback is that the speakers sound tinny and do not come near the quality of the rest of the treadmill.
Early treadmill reviews on this Livestrong model show consumers are impressed with the quiet operation and overall design of the LS7.9T, which has a classic frame in black that is accented with yellow trim, and a rounded console set atop two arced masts.
It has the profile and look of treadmills costing two to three times as much. Reviewers also comment that this 183-pound machine feels solid with no wobble, giving them a smooth workout and enough programs to stay motivated.
What We Say
It's impressive that budget machines like the Livestrong LS7.9T treadmill are coming standard equipped with power incline features as well as other kinds of bells and whistles that were only found on machines in the $1200+ range just two years ago.
This model offers a lot of value for the money and is a nice walker's treadmill that should give you years of good use. If you are a runner, however, spend a little more and get the LS9.9T at $999.
Show me other Livestrong Treadmills