Livestrong Treadmills: Introducing a Great New Brand

Livestrong Treadmill Reviews
With their debut in 2009, Livestrong treadmills are already earning a respected place next to their close cousin – the Horizon treadmill line. While it may be a bit early, we predict a couple of these models will land on several Best Buy lists.
Meet the Company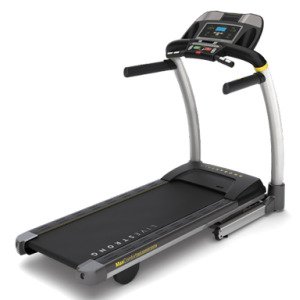 The parent company of this new line of treadmills is Johnson Health Tech North America, which is headquartered outside of Madison, Wisconsin. Johnson also produces other brands of fitness equipment for home use including Horizon, AFG, and Vision, as well as the commercial brand Matrix.
UPDATE:  Johnson Health Tech is not making Livestrong treadmills anymore and they are no longer available for sale.  Check out NordicTrack as well as their other brands, Horizon and Vision for comparable treadmills.
Livestrong was developed with the help of pro cyclist Lance Armstrong, and the name Livestrong reflects his attitude toward life and fitness after surviving his bout with cancer. Lance rode in his first Tour de France in 1995, a year before he was diagnosed with testicular cancer that eventually spread to his brain and lungs. Despite the slim odds of recovery, he fought through two surgeries and a schedule of chemotherapy. He not only made a full recovery, he went on to win the grueling Tour de France a record seven times. A portion of the sale of each Livestrong fitness machine helps support the Lance Armstrong Foundation and the fight against cancer.
Quality and Attractive Design – Yes!
Johnson has adapted many of the best mechanical features of the Horizons for use on the Livestrong treadmills, and then went for broke by including bigger motors, comfortable deck cushioning, and included a strong warranty. Many of the parts used in Livestrong residential treadmills are interchangeable with Johnson's other brands so customer support should be easy and have a fast response.
What to Look Out For
A key point to mention about Livestrong is that Johnson Tech places a lot of emphasis on the quality of the motors in all their treadmill brands.
The Livestrong LS13.0T for example, comes with a big 3.0 CHP motor covered by a lifetime warranty, as well as 5-year coverage for parts. Johnson wouldn't back their machines with such a strong warranty if they weren't certain the treadmills offered the speed, power, and reliability customers want.
Making a Strong First Impression
These Livestrong treadmills are turning the heads of trainers and dealers who were already pleased with the performance of the budget Horizons as well as the high-end Matrix machines. Among the first consumers who have put their faith in Johnson's reputation and bought the new Livestrongs – their treadmill reviews could not be more promising. The three new mid-range models have received outstanding reviews – and only the budget model LS8.0T lags behind.
Click here to write your own review!
Livestrong Treadmill Model Reviews
All Livestrong models come with a Heavy-Duty folding frame covered by a lifetime warranty.
Livestrong LS8.0T - A quality machine backed by a very good warranty for an entry-level treadmill; a top pick in the under $800 price class.
Livestrong LS10.0T - An affordably priced quality treadmill with impressive specs and a decent warranty for the motor, parts, and service.
Livestrong LS13.0T - The LS13.0T features a heavy-duty 3.0 CHP motor, a long 20" x 60" tread belt and advanced cushioning to minimize stress on knees and joints.
Livestrong LS15.0T Treadmill - A new folding model built for heavy-duty training and an extra long belt to accommodate people with longer strides.
Livestrong LSPro1 - Designed for runners, the LSPro1 offers a large motor, advanced cushioning system, a selection of challenging run programs, and a folding frame – all at a very attractive price.
Livestrong LSPro2 - The LSPro2 gets a thumbs-up for its powerful motor, advanced cushioning, quiet operation, good warranty, and all the great programming features, especially the exciting Passport player.  
Livestrong T1X - The T1X is the company's top-of-the-line model for use in a private home or light commercial (office or corporate) gym setting.
Livestrong T1Xe - Costs $1000 more than the same T1X but includes the 7" LCD + TV screen instead of the LED display. That's the only difference!
---