The Lifespan Pro5 Treadmill – A Real Gem
The powerful Lifespan Pro5 treadmill steps away from and ahead of the pack with quality components normally seen in commercial units. If you are going to make a $3,500 investment in your health, this is a good place to start.
The Machine
The Lifespan Pro5 treadmill features an attractive multi-colored LED display console that shows your workout progress, as well as readouts for a body mass analysis function that displays your basal metabolic rate and body fat percentage. Exercise programs include Manual, 10 Preset (5 Speed, 5 Incline Change), Target Heart Rate, 5K/10K programs, and 2 customizable programs.
The other features and specs on the Lifespan Pro5 include: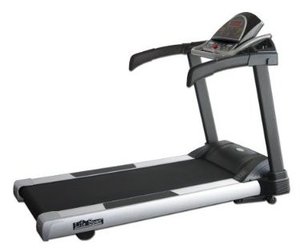 3.0 HP AC Dura-Max motor
Incline motor – 1000-lb max lift
0.5-12 mph
0-15% Incline
22" x 62" treadbelt
16 Workouts
Speed and Incline Hand Grips Controls
Chest strap Heart Rate Monitoring
400 lbs. max. user weight
Aluminum side rails
1" Reversible Phenolic Deck
Warranty: lifetime on frame & motor, 5 yrs parts, 2 yrs labor
The Buzz
UPDATE: The Lifespan Pro 5 is no longer being produced by the company.  Compare all of the new models on sale now to find a similar machine.
This model is sold as a residential treadmill but it is rated for light commercial use (i.e., up to six hours per day). The Lifespan Pro5 has some impressive specs to offer: large 3" front rollers, a 1,000 lbs. max weight incline motor, 1" reversible deck, commercial-grade controller board, integrated cooling fan and cross ventilation in the motor housing to keep components cool under heavy stress.
In addition, its 3.0 hp AC motor provides more power and torque than a standard 3.0 hp DC motor found on most treadmills. Experts who have reviewed the Lifespan Pro5 are blown away by the quality of this machine as well as the beautiful design and quiet, comfortable ride.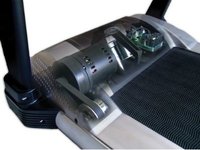 Users are thrilled by owning this unit that feels like a treadmill they would find in a health club. Along with the great programming, the Lifespan Pro5 has a huge 22" x 62" belt and speed/incline controls right on the handrails.
Users also like the unique Intelli-Key™ Smart Lighting System. You no longer have to fumble and guess with programming: each console button flashes in blue in the proper sequence to help you start your desired workout program quickly and easily.
What We Say
If you've been checking out treadmill reviews on the web for the Lifespan Pro5, then you probably don't need any more convincing of what a gem this machine is; it's often found in the top one or two positions for "Best Buy" awards.
While the Lifespan name doesn't come up often in discussions of high end treadmill brands, such as True, Precor, and Landice machines, the Pro5 has impressed treadmill technicians with what's under the hood as well as trainers who are awed with the look and feel of this quality machine.
The Lifespan Pro5 treadmill sells for $3,499 MSRP, and it is worth every penny.
Show me other Lifespan Treadmills