The Ironman Inspire Treadmill – Price Doesn't Equal Value
The Ironman Inspire treadmill is such an easy treadmill to write a review about! It's a no-brainer: If you are serious about working out and need a treadmill to be durable and be well worth the money, pass up this one. There are so many better models of fold-up treadmills that perform better than this! Let's see why.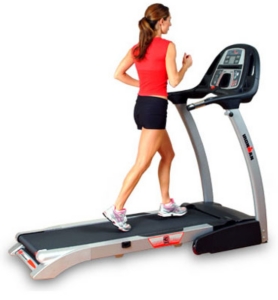 The Machine
The Ironman Inspire treadmill sells for a MSRP of around $1600. Its 10 pre-set programs include fat burn, cardio, heart-rate interactive, manual, warm-up, and 6 custom programs. Its list of features includes:
3.0 HP motor
10 mph max. speed
10% max. incline
20" x 60" running area
10 workout programs
Body fat analyzer
Grip & wireless heart rate monitor
Built-in cooling fans
Folding design
300 lb max. user weight
Lifetime warranty on frame
12 year warranty on motor
2 years warranty on parts; 1 year labor
The Buzz
UPDATE:  Ironman Fitness no longer manufactures treadmills, choosing to focus on their elliptical line.  For a similar machine take a look at NordicTrack.
First, let's look at what it does well. The Ironman Inspire treadmill comes with an 11-gauge steel frame (recommended over aluminum), large walking area, good motor warranty, nice cushioning, and handlebars mounted with remote speed and incline controls. Okay, maybe the two year warranty on parts is a bit short, but overall, a nice machine.
And now the negative: The price. The hefty price doesn't equal the value here, not when it's compared head-to-head with other treadmills in its price range.
If you've been reading over some Ironman treadmill reviews, you'll likely notice that while users tend to mention the basics of the machine aren't bad, there's nothing outstanding about it.
We also found that the 10% incline is too shallow. (We like 15% so we can really stride uphill!) The last negative we should mention is the company's poor customer service reputation.
What We Say
We'd go with a better brand at this price but if you can get a killer deal on an Ironman Inspire treadmill for less than $1300, then it's probably a good buy. Otherwise, you'd be better off going with the Sole F80 or the Smooth 6.25 if you plan to spend around $1300.
Those two treadmills will feel more solid and sturdy, and Sole motors are made by Dyaco which are highly regarded as the best grade motors for treadmills selling in the sub-$2000 range.
Show me other Ironman Treadmills