EPIC View 550 Treadmill Customer Care Issues
by Anonymous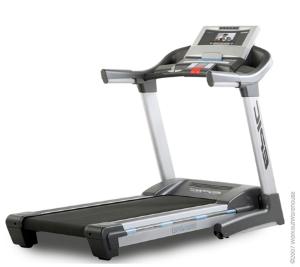 In July '10, I purchased an EPIC View 550 Treadmill.

Within 3 weeks the product demonstrated slipping and gripping problems with the tread. Followed instructions to fix found in manual– no success.

I called EPIC and was holding for over an hour!!

It took an additional two weeks, 3 repair visits, 2 new parts (one was back-ordered…hmm?) and what felt like hundreds of individual calls to EPIC's customer service department before I THOUGHT it was operational again.

Within 20 minutes of my workout, the same problem of gripping and slipping began. VERY VERY UNSAFE when running at a good pace I might add.

I called EPIC again, put in the service request and asked to have a supervisor call me. I'm thinking I have a lemon and I need reassurances. I was told the supervisor would call me the same day, as well as the repair company.

IT TOOK A WEEK TO HEAR FROM A SUPERVISOR AND 4-5 DAYS TO HEAR FROM THE REPAIR COMPANY. The supervisor refused to give full name for my records, citing security reasons.

BUYER BEWARE "CUSTOMER CARE" IS OF ZERO CONCERN TO EPIC AND ICON FITNESS. I don't know if it's laziness, unprofessionalism, or sheer incompetence, but pray you don't have to deal with these people.

It is September '10, and I still have a 500 pound paper weight in the basement, STILL UNDER THE MANUFACTURES' WARRANTY!!

If you unfortunately have to call, this number gets you to a representative faster.

1-888-825-2588. EPIC FAILURE!!!!!!

Epic T40 Treadmill User Review
by Ed Rogers
(Logan, UT)
Our Epic T40 treadmill has, so far, performed well. My wife and I have over 600 miles and 145 hours on this machine, so it's beyond any "Honeymoon" phase. It is truly made for running.

Most Icon Health and fitness treadmills don't meet this requirement. As of this moment, the Epic T40 hasn't required any adjustments to the belt, such as tension or alignment.

My first treadmill (a Proform) started slipping after about 50 miles. I junked it shortly after one major repair attempt at around 100 miles.

I did have one problem with the Epic T40. After about 3 weeks of inactivity, the treadmill wouldn't start. I simply unplugged it, waited a few minutes, and plugged it back in.

We haven't had any problems with our Epic treadmill since.

Pros: Solid construction, built-in TV (analog), large running surface, commercial-grade 3.5 continuous HP motor.

Cons: Requires digital converter to watch TV, use it or lose it (binds up after inactivity).
Start a new discussion with your own Treadmill Consumer Reviews.
Epic TL1700 Treadmill Consumer Review
by Ann
(Carlisle, IN)
My sons bought an Epic TL 1700 treadmill for a Christmas present for me. I am 66, weigh about 125 lbs and use it 3-5 times a week. It quit after 6 months.

I called ICON customer service and they sent me a long email and told me a service company would contact me in 3-5 days. After a week, I contacted them again.

Then I read my agreement that I had a year's warranty on parts but not labor. The service company that was supposed to call was over a hundred miles away.

I emailed to see what their service call would be, but still haven't heard from them. My husband finally spent over 3 hours and got the treadmill repaired, for now.

I would not recommend purchasing the Epic TL 1700, even though it cost around $800, it still should have lasted longer without a repair.
Start a new discussion with your own Treadmill Consumer Reviews.