The Endurance T3 Treadmill – Simple Design/Great Warranty
With rock solid construction and free parts for life, the Endurance T3 treadmill is just another one in a long line of Body Solid treadmills to give you quality and long lasting durability.
The Machine
Like most Body Solid treadmills, the Endurance T3 treadmill doesn't come with a lot of extras, but the features it does include are useful for a workout:
Motor: 2.2 CHP, 6.6 HP Peak Duty
0.5 to 10 mph speed
0% to 12% incline
18" x 50" running surface
6-point deck suspension system
4 workout programs
Feedback: elevation, time, distance, speed, and calories
3-window LED display
Safety key
275 lbs max. user weight
In home lifetime warranty – parts and labor
Compare Popular Endurance Treadmills at Amazon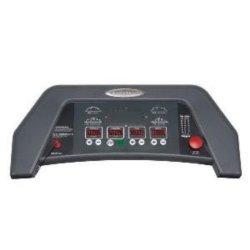 The Buzz
Many experts are already sold on the Endurance T3 once they see the brand name. Treadmills by Body Solid have a reputation for being good, solid treadmills for the at home exerciser. The heavy gauge steel frame lasts as long as you own the treadmill and the no-frills approach to gadgets helps keep you focused on the workout and not just the 'toys.'
However, it's slightly disappointing in several areas. For one, the Endurance T3 treadmill doesn't include a heart rate monitor, which is quite helpful for the beginning exerciser. Testers found this to be rather odd as most other treadmills have this option standard.
The Endurance T3's running area is smaller than other treadmills, but Body Solid models are still sturdy and easy to run on; it just might take time to adjust when you are used to the treadmill at the gym.
The lifetime parts and labor warranty is a major plus for this treadmill and ensures that you always have the treadmill up and running. And the customer service from Body Solid is excellent, so getting those free parts for the Endurance T3 is not an issue.
What We Say About the T3 Treadmill
Our main concern with the Endurance T3 is the price. At $1399, it's very expensive for being a simplified treadmill. You aren't getting a heart rate monitor, nor are you getting a large running surface, but you are getting that lifetime warranty and great customer service from Body Solid.
While the Endurance T3 treadmill is a costly investment it might also be a lifelong investment – and that's really the point.
Show me other Endurance Treadmills