The Endurance TF3i Folding Treadmill – a Real Workhorse
The Endurance TF3i Folding Treadmill is the foldable version of the popular T3 treadmill. It's always interesting when a treadmill manufacturer decides to put out a folding version of a previous model, but tries to package it as something completely different.
This is the case with many Body Solid treadmills. But while that might sound negative, we actually hold Body Solid in high regard, and the folding option is certainly a nice feature if you have an additional $200 to spend.
The Machine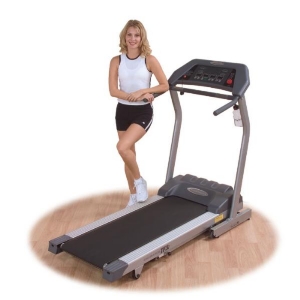 The Endurance TF3i Folding treadmill is certainly not a cheap treadmill to set up in your home gym, but it does offer basic utilities that make it a real workhorse. With a high powered motor and ample running room, this model in the Body Solid treadmill line is great for the beginner and light runner. Here are some other features of the Endurance TF3i:
2.2 CHP motor, 6.6 HP Peak Duty
18" x 50" running area
0.5 to 10 mph speed
0 - 12% incline
6 workout programs
Deck suspension system
Contact heart rate monitor
275 lbs. user weight
Lifetime warranty
Compare Popular Endurance Treadmills at Amazon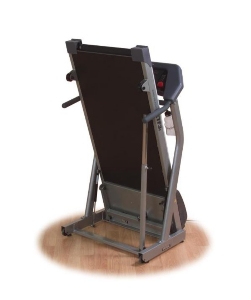 The no-nonsense, no questions asked Lifetime Warranty is the best in the business, hands down. Body Solid's Endurance TF3i is already a solid treadmill with few frills, but adding a lifetime warranty makes it a solid machine with few frills that will last a lifetime.
The Buzz
Reviewers agree that Body Solid's Lifetime Warranty makes the Endurance TF3i Folding treadmill a good value, although you won't find the latest bells and whistles built into this machine. Testers like the solid feel and smooth ride of the Endurance TF3i, but those that appreciate fancy electronics just aren't going to be happy with this treadmill brand.
Actual users say that Body Solid's impact cushioning system works well for a variety of runners and walkers with different frames, which makes this folding treadmill fully adaptable – no matter your fitness level or body size.
What We Say
We love the Body Solid brand of treadmills because they're designed to last and have a lifetime warranty to back them up. In essence, you'll always get your money's worth, no matter how long you own the Endurance TF3i folding treadmill.
But unless you need the folding option, go for the Endurance T3 instead or compare similar models made by Smooth or Sole.
Show me other Endurance Treadmills