The Bodyguard T460X Treadmill – Above Average
The Bodyguard T460X treadmill features an incline elevation range from -3% to 15% to replicate downhill and uphill training. Along with the rest of the high-end features, this residential model is one of the best-built, best-designed treadmills on the market.
The Machine
The LED mono-color console display has quick keys in addition to a 7" graphics profile, and a 22 digits scrolling screen. Programming on the Bodyguard T460X treadmill includes 24 pre-sets, 3 Heart Rate Control programs, 8 Learn programs, and 8 User IDs. The warranty is lifetime on the motor and all parts and 3 years on labor.
The list of specs on the Bodyguard T460X includes: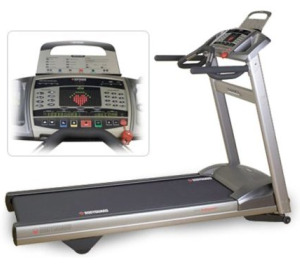 3.4 HP Motor
0.1-12 mph
-3% - 15% incline range
20" x 60" running area
24 Preset Programs
X-Card ™ technology
CHR digital contact Heart Rate Control
Chest strap
BDS+ Cushioning
400-lb. User Capacity
Unit Weight/Dimensions — 273 lbs; 78" x 29.5" x 53"
Warranty: Lifetime on frame, motor & parts, 3 yrs in-home labor
Check out the full lineup at Bodyguard Fitness

The Buzz
The Bodyguard T460X treadmill features a powerful 3.4 HP (3600 rpm) motor that combines with Bodyguard's commercial grade Palladium2 driver for a quiet and smooth motor operation.
It also has 2.5" rollers for the belt, a fully welded steel X-frame providing a solid platform for users up to 400 pounds, and a 1" thick 4-way treadmill deck that can be reversed and/or rotated to extend its life. The Bodyguard T460X also features X-Card Technology, software that interacts with Bodyguard's website where you can keep track of your training results using charts, graphs, and reports.
Quality components of the T460X treadmill include an Advanced Friction Detection System (AFDS) that monitors the friction level between the deck and belt to prevent the motor from overheating. Other monitoring systems include iTek (Intelligent Technician) diagnostics that continuously monitors equipment performance, and Bodyguard's Electronic Stride Control (ESC), which ensures that the speed of the belt remains the same regardless of the user's weight or the incline selected.
The patented Sorbothane shock absorption technology found on all X-frame Bodyguard treadmills is part of the Bodyguard Dissipation System Plus (BDS+). This means the deck has a high damping coefficient (bounce back) as well as a high durometer rating (measure of hardness) to provide absorbing protection for the feet and joints, especially for heavy users and runners.
There aren't many consumer reviews on the Bodyguard T460X treadmill, but equipment techs report almost no mechanical or electronic issues with this model. It made Treadmill Doctor's Best Buy list for 2009.
What We Say
The $4,199 Bodyguard T460X rates well above average in every aspect – power, cushioning, noise level, quality, size and a strong warranty. Another version of this model is the Bodyguard T460XC treadmill, which sells for $4,499.
For the extra $300 you get a tri-color monitor and an orthopedic belt. It is also worth noting that the Bodyguard T460X treadmill has identical components and features to the stunning T280C model at $3,699, and the T280P at $3,299.
If you can do with fewer programs and skip the X-Card feature, as well as the -3% decline, the T280P is the more cost-effective way to go.
Show me other Bodyguard Treadmills