Schwinn Treadmills – Only a Few Models


Schwinn Treadmill Reviews
Can a respected bicycle brand find success with Schwinn treadmills? That's the bet the company is taking with its tentative steps into the very competitive home treadmill market.
The parent company, Nautilus Health & Fitness Group, has a number of popular brands including Schwinn Fitness®, Bowflex®, Universal®, and Nautilus®. Since Nautilus purchased Schwinn in 2001, the respected name in bicycles has been working to further establish its brand in cardio fitness products.
The History of Schwinn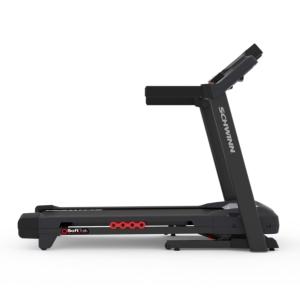 The Schwinn bike, invented in 1895 by German immigrant Ignaz Schwinn, has been an American icon for over 100 years.
By the 1960s, Schwinn Fitness had expanded to include home cardio equipment including the Airdyne stationary bike, which was a huge success. The company launched treadmills in 1994 when it came out with its first non-motorized treadmill, the Easy Tread.
Unfortunately, the bike company did not aggressively jump on market trends, missing both the BMX and mountain bike crazes in the 1980s, and the brand suffered lagging sales and lost its lead in its bread and butter market.
The Schwinn Bicycle Company declared bankruptcy in 1992. By 1997, Schwinn and GT Bicycles joined forces, but problems persisted and the corporation filed for bankruptcy in 2001.
Compare Schwinn Home Treadmills at Amazon
In 2004, the Schwinn GT Cycling Division was acquired by Pacific Cycle, a division of Dorel Industries, and the Schwinn Fitness Division was bought by Nautilus. The two organizations have shared control of the Schwinn brand ever since.
In early 2010, Nautilus sold off licensing assets for Stairmaster® and Schwinn indoor cycling commercial products to Fit Dragon, Inc., but kept the other Schwinn home cardio products.
A Future of Uncertainty?
Schwinn Fitness makes an above average line of budget elliptical trainers, but struggles to establish credibility with its treadmills. The company currently offers only a few models, among them the 830, 840 and 870, but once again, the machines are lagging 2 or 3 years behind those made by competitors. It is obvious the company has a ways to go before they can thrive and survive in the treadmill market.
Hopefully, Schwinn can endure the downturn in the economy despite the fact that Nautilus lost $90 million worldwide last year. While you might find a reason to like Schwinn treadmills, you should do your homework and see what the competition offers. At present, there are at least a dozen other treadmill manufacturers that offer a better quality treadmill than Schwinn.
Schwinn Treadmill Model Reviews
Most Popular Models
Schwinn 830 Treadmill - Although an improvement on previous models, with a subpar warranty it just doesn't compare well with its competitors in the price category.
Schwinn 870 Treadmill - A step up from the 830 with better cushioning, more incline and some additional improvements.

Older Models
Schwinn 820p Treadmill - This discontinued Schwinn model is a waste of money at any price. Listed as a 'Best Buy' years ago by a leading consumer magazine, reviewers do not have the same high opinion of it.
Schwinn 840 Treadmill - Easy to assemble, runs quiet, nice variety of programs, heavy frame provides a stable platform; but there are a number of better choices.
Schwinn 860 Treadmill - Some praise from new owners, but reviews by treadmill experts are less impressed with it. Short warranty serves as a red flag for potential buyers.
---