The Weslo CrossWalk S 7.9 Treadmill – Not a Bargain
Think you found a deal? At $399, the Weslo CrossWalk S 7.9 treadmill is an unreliable machine that is sold in large box stores such as Walmart and Costco to the general public who don't do any research on treadmills. It's a cheap treadmill at a cheap price that isn't a bargain once it breaks.
The Machine
The Weslo CrossWalk S 7.9 treadmill has a blue-tinted LCD with Priority Display which tracks your speed, time, distance, and calories burned. Programs include CrossWalk workouts, which prompts you when to use the Workout Arms, and three Personal Trainer workouts that automatically adjusting the speed and incline as you walk.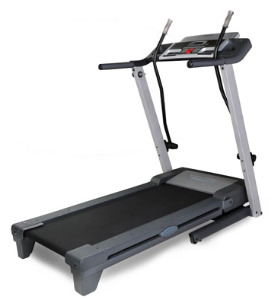 The specs on the S 7.9 include:
2.5 HP Impulse™ Motor
0-10 mph QuickSpeed™ Control
0-10% Power Incline® Control
18" x 50" walking area
4 Workout Apps
CrossWalk® Upper-Body Arms
Dual Grip Easy Pulse™ Heart Rate Monitor
250-lb. User Capacity
Warranty: 5 years motor, 90 days parts & labor
The Buzz
UPDATE: The Weslo CrossWalk S 7.9 is no longer available. Check out the full lineup of Weslo treadmills at reduced prices here.
The Weslo CrossWalk S 7.9 treadmill features upper body workout arms and the interactive CrossWalk coach that prompts you to use the arms during certain points in the program.
They don't actually work that well; carrying a set of 10-lb dumbbells would likely be better. The Comfort Cell™ Cushioning is supposed to help reduce stress on the joints but don't be fooled into thinking this is the same kind of deck cushioning found on a $2000 machine.
Treadmill pros and equipment experts also question the rating on the motor. It's 2.5 peak horsepower, which translates to about 1.35 continuous horsepower.
Peak means it can only handle that horsepower for a short duration while continuous hp tells you the motor can run at that hp continuously without straining. So in effect, the Weslo CrossWalk S 7.9 model has a small motor under the hood, not one that can haul a 250-lb user. 
Treadmill reviews have been dogging these Weslo motors for burning out fairly quickly. The CrossWalk S 7.9 also has a power incline – another impressive feature in the specs but in reality, it won't hold up to elevating a deck with a person standing on it. It's a safe bet that the incline motor will also fail within a year.
What We Say
Most higher-end treadmills can be bought on the internet sight unseen, the quality is good and you won't be disappointed. You can't do that with a budget machine such as the Weslo CrossWalk S 7.9: you must test drive it at a store before you buy.
Feel the cheap plastic console, rattle the support arms, jump on the deck (when the sales clerk isn't looking) to see how stable or unstable it is. Cheap models like the Weslo CrossWalk S 7.9 treadmill are a waste of $399 and you'll be stuck trying to unload it in a year.
Spend a little more and get a treadmill that offers better value and a good warranty from a reputable company. Skip the Weslo.
Show me other Weslo Treadmills