The Weslo CardioStride 2.0 Treadmill – A Manual 'Hamster' Model
Flimsy and lightweight, the manual Weslo CardioStride 2.0 treadmill is not even worth its $99 price tag. Even with free shipping thrown in, there is no reason to waste your time with this model.
The Machine
The small display on the Weslo CardioStride 2.0 treadmill lights up to show your speed, time, distance, and calories burned. The deck frame has a 2-position manual incline with settings at 13% and 17%.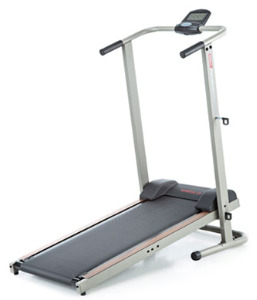 The specs include:
2-position Incline
17" x 41" walking area
Transport wheels
250-lb. User Capacity
Warranty: 90 days parts & labor
The Buzz
UPDATE: The Weslo CardioStride 2.0 is no longer available. Check out the updated CardioStride 3.0 here at a special reduced price.
This bargain basement manual treadmill is one of those 'hamster belts' where you provide the power to move the belt under your feet. There's no motor to burn out, which can be considered a plus, but it can be difficult for some people to get the belt to roll smoothly over the rollers.
The Weslo CardioStride 2.0 treadmill has a limited 90-day warranty because, well, Weslo doesn't expect it to last longer than three months.
The display on the console requires batteries to run, but you probably don't need to bother with the readouts since they are not going to be calibrated or in any way accurate on a $99 treadmill.
The "calories burned" calculation, for example, is not accurate on any cardio machine if there is not a way to interact with the console to input user weight and age.
The Weslo CardioStride 2.0 has a 250-lb user weight capacity but this tiny machine should not be used by anyone larger than 150 pounds or so.
Any user, however, could probably break the deck by stomping on it too hard, but the main reason not to get a manual treadmill is the stress it places on your joints. Since you have to physically slide the tread belt over the deck while walking, it creates an unnatural gait as you keep pushing the belt backward with your feet.
If you already have pain in your ankles, knees, hips, or back, this manual treadmill will only make things worse.
What We Say
The Weslo CardioStride 2.0 treadmill was called the AerobicStride 2.0 last year, but it's the same model. What ever the name changes to, it is still a waste of money.
Save your money for a decent treadmill that would cost around $750 or more, or opt for a cardio machine like the Confidence Fitness 2-in-1 Elliptical Trainer with Seat for around $140. It's not a treadmill, but for the price, it has surprisingly good results.
Show me other Weslo Treadmills