The Weslo Cadence G-40 Treadmill – Lack of Quality in Motor/Deck
You can tell by the price that the Weslo Cadence G-40 treadmill is a low-budget machine. You suspect that it lacks in areas of quality, reliability, cushioning, power, and value — and you would be right!
The Machine
The Weslo Cadence G-40 treadmill has a blue-tinted LCD with Priority Display showing time, speed, distance, pulse, incline, and calories burned. The RaceTrack™ Display feature is a ¼-mile track to visually display your distance. To check your heart rate, place your thumb on the Easy Pulse™ sensor on the console.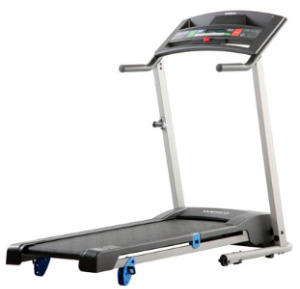 The specs on the G-40 include:
2.25 HP Impulse™ Motor
0-10 mph QuickSpeed™ Control
3-position manual Incline
16" x 50" walking area
4 Workouts
Easy Pulse™ Heart Rate Monitor
250-lb. User Capacity
Warranty: 1-yr motor, 90 days parts & labor
The Buzz
UPDATE: The Weslo Cadence G-40 is no longer available. Check out the full lineup of Weslo treadmills including the newest Cadence models at reduced prices here.
The Weslo Cadence G-40 treadmill has a weak motor – it's listed as a 2.25 horsepower, but that is a rating for peak or maximum hp, not continuous hp.
In reality, 2.25 horsepower delivers anywhere from 1 to 1.3 continuous horsepower on a constant basis, and that's not enough giddyup to handle a 250-lb user walking at a slow speed or running at 8 - 10 mph. The manufacturer is hoping you will think the motor is the same size as those found in $1000 treadmills.
Another area of concern is the belt. The walking area is long enough for a walker but it is very narrow at 16" wide – no doubt designed to be small to keep as much strain off the motor as possible. 
Treadmill reviewers report their frustrations with either the motor getting hot and conking out or the weak deck breaking.
In any case, you are going to have to repair the unit at some point, and with replacement parts costing as much as the machine itself, the Weslo Cadence G-40 will end up costing you more than the original $299 you thought was a deal.
What We Say
This Weslo looks and feels cheap, and performs as bad as it looks. It squeaks and groans with each step. A small lightweight person might be able to use this machine for a year or two without problems, just long enough for the 1-year motor warranty to run out.
The added manual incline plus an out-of-shape person walking slowly will strain the motor and cause it to burn out prematurely.
Due to the lack of quality in the motor and deck, the Weslo Cadence G-40 treadmill is Not Recommended.
Show me other Weslo Treadmills