The Weslo Cadence 60 SE Treadmill – Goal-Setting Aspect a Major Plus
The Weslo Cadence 60 SE treadmill is one of the most goal-oriented machines you'll find. The display has a special feature for 4 calorie-burn workouts (300, 400, 500, 600-calories), plus 5K and 10K races, and a cool MyTracks™ Step Counter.
There's no reason for you to ever again step on the machine, press "Manual," and then proceed to do an unfocused walk of 20 minutes or so. Every feature here is designed for you to lose the weight, get your heart fit, slim down, and set goals.
The Machine
At $899, the Weslo Cadence 60 SE offers four weight loss workouts and two more distance training workouts. The easy-to-read backlit console has a 7" x 30" workout matrix with graphics to show your progress. The readout displays a MyTracks™ Step Counter (to get to those important 10,000 steps a day -- a fail-proof weight loss goal), plus a ½-mile motivational track. Other features of the Weslo Cadence 60 SE treadmill include: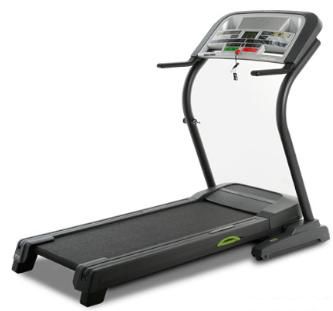 2.75 HP Motor
0-10 mph w/ QuickSpeed™ Control
0-10% Quick Incline™
18" x 52" tread belt
6 Workout Programs
Dual-Grip EasyPulse™ Heart Rate Monitor
275 lbs. max. user weight
CoolAire™ Fans
SoftCell Plus™ Cushioning
Warranty: 5 years motor; 1 year parts and labor
The Buzz
UPDATE: The Weslo Cadence 60 SE is no longer available. Check out the full lineup of Weslo treadmills at reduced prices here.
Experts will give you fair warning to educate yourself about motors before you do your treadmill shopping. Weslo treadmill reviews should point out that the Cadence 60 SE is equipped with only a Peak Horsepower motor, and not a Continuous Horsepower (CHP) motor.
Therefore, a 2.75 HP motor delivers far less CHP than what you thought it should be. That being said, this motor should handle a walker or light runner just fine on this small belt. A heavy or large person is advised to buy a larger treadmill.
Consumers love the profile and good looks of the Weslo Cadence 60 SE. There are only six workout programs, but because of the specific distance or calorie-burning nature of them, the goal-setting aspect is a major plus.
This treadmill also has a user weight input feature that allows the computer to make its calorie-burning calculations based on your actual weight rather than a pre-programmed weight average.
What We Say
The company makes a lot of mass market cheap machines, the kind you see people pick up at Costco or Walmart for under $250, then regret the purchase within weeks.
The Weslo Cadence 60 SE treadmill has some cheap components, and the motor is nothing to shout about, but the concept and overall attractiveness will lure in some buyers. If you can find it for less than $700, it's not a bad buy.
Show me other Weslo Treadmills
Discontinued Treadmill Models Index