The Weslo Cadence 60 CT Treadmill with Hand Weights for Upper Body Workouts
The Weslo Cadence 60 CT treadmill is a compact motorized model that is sold with its own set of hand weights all for under $300.
The Machine
The console has three blue-tinted LCD windows that show your speed, time, distance, and calories burned.
The full specs are: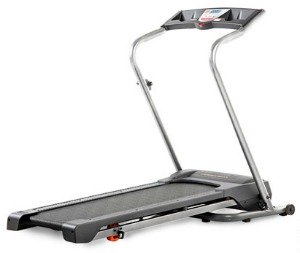 2.25 HP Impulse™ Motor
0-10 mph Speed
Multi-position Manual Incline
14" x 45" Tread Belt
Comfort Cell™ Cushioning
2 Workouts
1 pair of Hand Weights
Dimensions: 62"L x 26.5"W x 57"H
250 lbs Max User Weight Capacity
Warranty: 1-year parts & labor
The Buzz
UPDATE: The Weslo Cadence 60T is no longer available. Check out the the most popular Cadence models here for great deals on all of these treadmills.
It looks like Weslo has done away with the moving handlebars on the CrossWalk machines and just included a pair of hand weights on the Weslo Cadence 60 CT treadmill to help you get an upper body workout. Well, at least you don't have to deal with the squeaky handlebars anymore!
Other than that, the specs on all their sub-$300 machines are the same: a 2.25 HP Impulse™ Motor, 3-position manual incline deck, a 250-lb user weight limit, and the LCD display.
The difference on this 60CT is that the deck is a lot smaller (just 14" x 45") whereas the other Weslo treadmills are 16" x 50", which short and narrow as well but the 60CT is just more so. If you are taller than 5-8, you will want a longer belt; otherwise, you'll feel constrained on this 45" belt.
But here's one plus: the shorter belt is less stressful on the motor which is why Weslo was able to improve the labor warranty on this model up to a year. (The other Weslo models have only a 90-day parts/labor warranty.)
What We Say
The $299 Weslo Cadence 60 CT treadmill is a very basic model designed to be used sparingly by walkers a few times a week.
Ignore the large weight limit which is over-stated; users should be no more than 170 pounds. We hate to see anyone buy this piece of junk. There are no treadmills that sell for $299 that we can recommend in good conscience.
We can only suggest you save up $499 to $599 and get an entry-level Horizon or LifeCore treadmill.
If that price is too much and you are desperate for something, you might consider a Gazelle Edge which will only set you back $90. It might help get you into the workout routine while you save up for a real treadmill.
Show me other Weslo Treadmills