The $100 Weslo AerobicStride 2.0 Manual Treadmill
The Weslo AerobicStride 2.0 Manual treadmill is brought to you by ICON fitness which manufactures an extensive line of brand name motorized treadmills. Unfortunately, they also make these little manual treadmills, which are much like Fred Flintstone in his stone car where he has to put his feet on the ground and do all the work of propelling it forward. But that's not the worst of it…
The Machine
At around $100, the Weslo AerobicStride 2.0 Manual treadmill won't give you the feel of a sturdy machine. There's a small oval display mounted on the front bar which gives you the choice of scan, speed, distance, time, odometer and calories burned. The specs on the Weslo AerobicStride 2.0 include: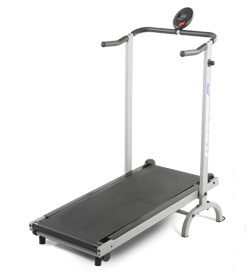 LCD display
2 position manual incline
17" x 41" belt
225 lb. max user weight
Folding, space-saver design
Built-in transport wheels
90 day warranty
The Buzz
UPDATE: The Weslo AerobicStride 2.0 is no longer available. Check out the full lineup of Weslo treadmills including the newest models at reduced prices here.

The Weslo AerobicStride 2.0 Manual treadmill comes with a 90 day warranty which isn't worth mentioning other than the fact that the parts and frame should last longer than 90 days, don't you think? As for the 41" walking deck, that is phenomenally short!
Any normal size adult will have to take smaller strides just to walk on a belt this size. For any treadmill purchase, fitness experts recommend a minimum 50" deck for most adult walkers, and taller folks and runners should think in terms of a machine with a 56" or longer deck.
Owners of the Weslo AerobicStride 2.0 quickly discover that the belt is far too small for comfort and pretty much impossible to walk on if you're a large person, say over 6" tall or 180 pounds. (So we don't believe the 225 pound maximum user weight guideline for a minute).
There is one positive though: the design is definitely a "space-saver" — it folds up flat against the wall of the closet. In fact, this manual treadmill is about the smallest treadmill we've ever seen. 
We won't make any cracks about unused Weslo treadmills being used as clothes hangers but we have to admit it that when folded up and set against a wall, this manual treadmill really does make an attractive pants hanger!
What We Say
We aren't big fans of this little stone-age contraption or any non-motorized treadmill for that matter.
If you're shopping for something more durable, larger, and electronic, save your money and keep looking. Prior owners aren't happy with their Weslo AerobicStride 2.0 Manual treadmill, and trainers are wondering why the company even bothers making it.
Show me other Weslo Treadmills